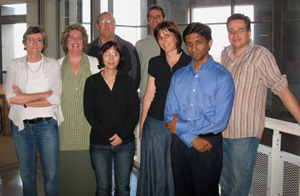 Taking Centre stage: The CeBER team of, back row, Fran Pocock, Bev Bailey, Emeritis Prof. Geoff Hansford, Dr Rob Van Hille, Dr Jochen Petersen and, front, Sue Jobson, Prof Sue Harrison and Dr Randhir Rawatlal.
The Faculty of Engineering & the Built Environment has formally launched its Centre for Bioprocess Engineering Research (CeBER), helmed by Professor Sue Harrison.
The centre is the culmination of work that started some 40 years ago in 1969, when bioprocess engineering research was first started in the Department of Chemical Engineering by Professor Geoff Hansford. Harrison joined the department in 1991, and in 2001, turned the group into a UCT research unit.
It has since established a range of collaborations worldwide, and was awarded a chair under the South African Research Chairs Initiative (SARChI) of the National Research Foundation in 2007.
The centre now boasts five senior researchers, five postdoctoral fellows, 38 postgraduate students and five support staff.
"The performance of her group is a huge asset to UCT," said Acting Vice-Chancellor, Professor Danie Visser, as he congratulated Harrison.
"To be upgraded to a centre there has to be a serious quality assurance system in place, the group must be research focused and get results. The group also needs to be led by a person of considerable international standing, to be interdisciplinary, and develop new researchers."
In turn, Harrison paid tribute to her many colleagues in the centre. "This is due to the work of a group of people, not just one individual," she said.
Among the guests at the occasion was Emeritus Professor John Davidson of Cambridge University, Harrison's mentor during her stint at the UK university. Davidson visited the department to give input into the centre and to assist and advise students on their research work.
---
This work is licensed under a Creative Commons Attribution-NoDerivatives 4.0 International License.
Please view the republishing articles page for more information.
---