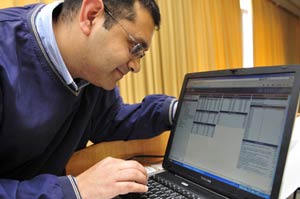 Help at hand: Senior planner Ashraf Conrad shows how to use the HEDA system to access institutional information.
It's a common problem. You need access to a central system to siphon off a range of institutional data about students, qualifications and graduation rates for a departmental planning report.
But how to pull it all together?
Fortunately, there's help at hand in the form of the Higher Education Data Analyser (HEDA), a centrally located, web-based management information system that provides access to a range of institutional information.
The data provides an audited view of an institution's qualifications, student enrolments, throughput and staffing information.
It was launched by Fiona Gibbons and Ashraf Conrad of the Institutional Planning Department (IPD), to faculty administrators and support staff this week, ahead of the university-wide roll-out over the next months.
"HEDA is a library of reports in the form of tables that give you access to static Higher Education Management Information Systems [HEMIS] and dynamic operational student data," said Gibbons, a planning officer in the IPD.
The final submission of the statutory required and audited HEMIS data is sent to the Department of Education by the university in July of the subsequent year. Dynamic operational data is derived from regular downloads from PeopleSoft and provides current year data as well and more in-depth data on previous years.
"All higher education institutions in South Africa are required to submit a standard dataset to the national Department of Education in the form of a HEMIS submission."
The Institutional Planning Department has used HEDA for the past year. Laboratory based training will be made available in the coming months.
For more information or if you'd like a demonstration, please email Elaine Hendricks.
---
This work is licensed under a Creative Commons Attribution-NoDerivatives 4.0 International License.
Please view the republishing articles page for more information.
---