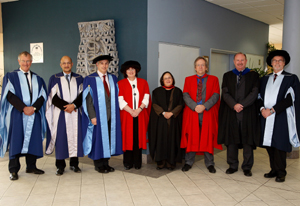 Developing vaccines: Prof Anna-Lise Williamson delivered her inaugural lecture on 17 September 2007. In picture are DVC Prof Cyril O'Connor, DVC Prof Daya Reddy, VC Dr Max Price, Williamson, Dean of Health Sciences Prof Marian Jacobs, Prof Ed Rybicki, Deputy Dean Prof Kit Vaughan, and DVC Prof Danie Visser.
The prevention and treatment of HIV/AIDS are important, but a long-term goal to deal with the pandemic should be focused on vaccination, says Professor Anna-Lise Williamson.
In her recent inaugural lecture, Cancer, Viruses and Vaccines, Williamson explained that vaccines may not stop people from getting infected, but will hopefully slow disease onset for individuals. In turn, society will benefit from a smaller disease burden, lower transmission rates, and slower viral evolution.
Williamson brings extensive scientific experience to her current research, including an investigation on an infectious lung cancer in sheep, her work on the human papilloma virus that causes cervical cancer, and lately, her focus on HIV.
In the latter, Williamson is the head of the HIV Vaccine Development Group, a multi-disciplinary team of senior academics, researchers and students developing candidate HIV vaccines, which has been funded by the South African AIDS Vaccine Initiative (SAAVI) since 2000.
On that project, she works with husband, Professor Ed Rybicki, a principal investigator at the Institute of Infectious Disease and Molecular Medicine, and sister, Associate Professor Carolyn Williamson, among others.
The first two vaccines developed by her team are scheduled for clinical trials in the US later this year.
Williamson said vaccines are one of humankind's most important inventions, saving up to three million children every year, eradicating smallpox and almost eradicating polio.
HIV vaccines could work because humans can regulate their infections, as some individuals control viraemia, for extended periods. There are also examples of exposed individuals, babies and some sex workers, who do not get infected but have a detectable immune response to HIV.
But the development of vaccines takes a long time. It took 47 years to develop one for polio and HIV was only discovered in the early 1980s, Williamson said.
While two HIV vaccines failed to show protection in efficacy trials, Williamson still believes this is the only way to curb the spread of the virus.
"We need more research to develop innovative vaccines and a robust pipeline of candidate vaccines - not less." "We [South Africans] should participate in the development of vaccines, not just test other people's products."
Williamson joined UCT's Department of Medical Microbiology as a medical natural scientist in 1987, after Rybicki persuaded her to come to Cape Town. The two tied the knot the following year.
Their relationship has been "productive": they have two children and have published 28 papers together since 1989.
"This indicates that she has significantly advanced the discipline at our university, and in fact has materially assisted in my own academic and professional development," Rybicki explained as he made the vote of thanks.
Rybicki noted that Williamson had to break two glass ceilings; one restricting the advancement of scientists, as opposed to medics, and the other restricting the upward mobility of women.
Williamson was "the quintessential scholar", said Professor Kit Vaughan, deputy dean in the Faculty of Health Sciences.
"She is innovative, energetic, focused, and understands the imperative of subjecting her work, and that of her students, to the scrutiny of the world's most competitive journals." She has published 100 articles in international journals, and has made a substantial contribution to capacity development at UCT, with 11 master's students, plus 11 at the doctoral level.
Williamson was promoted ad hominem to associate professor in 1999, to professor in 2004, and then last year was awarded a chair in vaccinology by the Department of Science and Technology and the National Research Foundation under the South African Research Chairs Initiative.
---
This work is licensed under a Creative Commons Attribution-NoDerivatives 4.0 International License.
Please view the republishing articles page for more information.
---