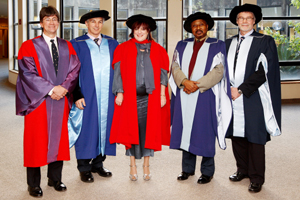 People's law: Prof Drucilla Cornell delivered her inaugural lecture, uBuntu, Pluralism and the Responsibility of Legal Academics to the new South Africa. With Cornell (middle) are (from left) Prof Hugh Corder, VC Dr Max Price, and DVCs Prof Thandabantu Nhlapo and Danie Visser.
Law reform must take care to respect the competing systems of values within South Africa, including the values and ideals embodied in customary law, Professor Drucilla Cornell said in her inaugural lecture on 10 September.
One of only seven A-rated women researchers in the country, Cornell joined UCT last year as professor in private law, taking up the new South African Research Chairs Initiative (SARChI) chair in customary law, indigenous values and dignity jurisprudence.
Formally, her work is to develop a jurisprudence that encompasses Roman Dutch Law and uBuntu, or "people's law", an amalgam of ethics that can deal with the complex demands of the South African Constitution, bringing together the best of Europe and Africa.
It's work that will involve ethnographic research in six of the nine provinces, to study on-the-ground developments in customary law.
"uBuntu, like many other traditional African ideals, is trivialised as coming from an outmoded form of life, or alternatively, belittled as an ethic that black South Africans do not live up to. Part of the work of my Chair, particularly the work in the townships, is to examine to what degree indigenous ideas, such as uBuntu, have survived the brutality of apartheid and the violence and dire poverty imposed by neo-capitalism."
For Cornell, uBuntu is "not a simple community ethic", but a signal of a much bigger ethic, one with significant legal and political nuances.
" ... the ideals of living customary law such as uBuntu have a profound effect on both the institutions of law and the actual processes that guide legal conflict. As [Chuma] Himonga argues, in most living customary law institutions there is no formal lawyer present on either side; the rules of evidence are extremely flexible, since the main purpose of the hearing is to let both sides tell their story; what is sought is a solution and not a winner-take-all verdict.
"The solution entails the restoration of the breach of the social relationship, and therefore the remedies available go considerably beyond those of either the Roman Dutch private law or the English common law."
uBuntu should be recognised not just as an ethical ontology of a purportedly shared world, but an ethical demand to being about a shared world.
Quoting Roger Berkowitz who said that "justice has fled our world", Cornell says: "Once justice has left the world, lawfulness will also go."
uBuntu promotes justice through dialogue in situations of conflict- and ensures the wellbeing of the individual through the welfare of the larger community, she says.
In his introduction to Cornell's lecture, Dean of Law, Professor Hugh Corder, said: "Under the auspices of her Chair, she has brought a succession of high-profile visitors to the faculty, has created opportunities for intellectual engagement with staff and students, and has challenged and inspired us."
In his vote of thanks, Deputy Vice-Chancellor Professor Thandabantu Nhlapo, a law man himself, said simply: "Drucilla Cornell does important work. How important is readily apparent to many of us who have had a lifetime of reflection on matters of African culture and of African values, and how these struggle for acceptance in the modern state.
"Thank you Professor Cornell for recognising the importance to the majority of South Africans of seeing their values being taken seriously. It is nothing less than a matter of national dignity.
"I am hugely impressed with Professor Cornell's work. It is difficult not to be impressed by someone who cites your work frequently and freely! A rare and wonderful thing."
(The full text of Cornell's inaugural lecture is available on the UCT website under Newsroom & Publications.)
---
This work is licensed under a Creative Commons Attribution-NoDerivatives 4.0 International License.
Please view the republishing articles page for more information.
---