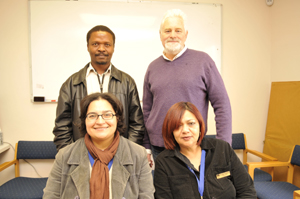 Accommodating: Patrick Kota and Peter Coode, standing, and colleagues Chantal September and Lee-Ann Alexander run the Vacation Accommodation Office.
The Vacation Accommodation Office reports to Peter Coode, manager for Commercial Enterprises, and is staffed by senior co-ordinator Chantal September, as well as admissions officer Patrick Kota and assistant admissions officer Lee-Ann Alexander.
September manages the planning, marketing and bookings process; Kota liaises with clients, runs the bookings process, follow-ups, invoicing, etc; and Alexander assists with the bookings process and keeps the office running.
What does the office do?
They deal with student as well as commercial bookings for UCT residences.
Students usually book accommodation for academic purposes such as research, summer terms, graduation and supplementary exams.
Commercial bookings could be sports groups, conference groups and holiday-makers. (Forest Hill is used for this over the end-of-year break.)
The office also updates the website for off-campus accommodation. This is a free service offered to private individuals who wish to rent out their flats. UCT students can then use this as a resource when looking for private accommodation. In this regard, the office acts as middle-agent, but they don't screen tenants or find accommodation.
What kinds of skills are needed?
You need to be customer-focused, dedicated, service-driven. Good time management and strong planning and administrative skills are essential for the office.
What are the challenges facing the office?
The increase in fuel and food costs could have a negative impact on its niche market, which is mainly the low-cost sector. The office constantly benchmarks prices with its competition to see where it stands, and is in the process of reworking some of its packages and pricing. Also, the office is creating a special sports package with sports administration to guarantee continued business.
What are the highs and lows?
The highs are seeing happy clients who had a great holiday, and students who have been assisted, as well as when problems have been speedily resolved.
The high pressures and fast pace of the office during the busy periods keeps staff on their toes. And working with experienced and supportive staff at the residences, who see to the operational side and service delivery for the vacation period, is another process.
The lows are when you put a huge amount of effort into a group and they cancel at the last minute or when there is a significant drop in numbers of visitors. The unpredictable weather also has its effect on guests wanting to sightsee. Imagine going up the mountain in the cable car in gale-force winds!
---
This work is licensed under a Creative Commons Attribution-NoDerivatives 4.0 International License.
Please view the republishing articles page for more information.
---