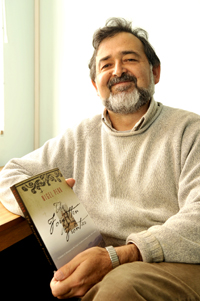 Associate Professor Nigel Penn of UCT's Department of Historical Studies has been listed among the American Libraries Association's Outstanding Academic Titles for 2007 for his book, The Forgotten Frontier: Colonist and Khoisan on the Cape's Northern Frontier in the Eighteenth Century.
The list, published annually in Choice magazine, reflects the best scholarly titles reviewed by the association. About 7 000 titles are reviewed each year, and only about 10% are finally listed. All works are judged on importance to their field, originality and overall excellence.
In The Forgotten Frontier, released in 2006, Penn resurrects the history of the Northern Cape frontier. Relying primarily on records of the Dutch East India Company, he argues that the Northern Cape played a crucial role in shaping the attitudes and institutions that contributed to the subjugation of the Khoisan people. The move into the interior by the Dutch colonists had by the end of the eighteenth century, says Penn, either reduced these herders and hunters into an underclass in the colonial world, or expelled them beyond it.
"This book is ... an important corrective to frontier theory," noted Choice, "skilfully integrating political, socioeconomic and military history squeezed from scarce archival and other primary sources to paint the most detailed and lively account to date of the complex interactions and bloody conflict between intruding Dutch settlers and the indigenous Khoisan and San peoples."
---
This work is licensed under a Creative Commons Attribution-NoDerivatives 4.0 International License.
Please view the republishing articles page for more information.
---