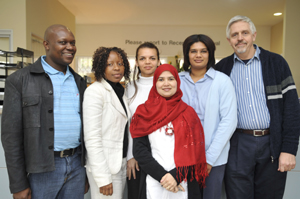 Well, well: Joining Ian Mackintosh (far right) and his team at Student Wellness Service are, from left, Joseph Chauke, Mudzunga Mathivha, Kim Foster, Zurayda Maneveld and Carmelita Lee Shong. Not in picture is sixth new arrival, Rehan Crause.
Stress is a major malady troubling UCT students, and more preventative measures are needed to address the situation, health experts say.
Depending on the term of the year, about 300 students seek psychological treatment each month, and between 400 and 1 100 students receive other clinical services. Most suffer from stress, particularly in the run-up to the examinations.
"This is just the tip of a iceberg," said Dr Ian Mackintosh, director of Student Wellness Service, where the students seek primary health care interventions. Other problems faced by students include adjusting to UCT, financial problems, homesickness, depression and suicidal feelings, relationship issues, academic appeals and disciplinary hearings, rape and sexual assault, family problems, and troubling past experiences, as well as minor sicknesses such as flu.
To strive for a maximum service to students, the section has recently employed six new people, three to fill vacant posts and the rest as additional staff.
They are psychologists Mudzunga Mathivha, Rehan Crause and Kim Foster, nurses Joseph Chauke and Zurayda Maneveld, as well social worker Carmelita Lee Shong.
This has raised the number of employees in the section to 16 permanent employees and six sessional staff.
The unit is divided into two sections - clinical services, made up of doctors and nurses; and psychological services, staffed by psychologists and social workers. The two sections work hand in hand and refer patients to one another if need be.
For severe cases, patients are referred to external medical institutions.
When not consulting, the staff run workshops on stress management, or conduct health promotions, among many duties. "Workshops are critical for the prevention of problems affecting students, and need to be made more accessible, "explained Lee Shong, who thinks social work is the cornerstone of rebuilding our society.
The work has its highs and lows.
For Maneveld, making a difference in the lives of students makes her feel good, while working as a psychologist has given Mathivha valuable insights about herself.
"You get to know yourself better as a human being," she says.
What makes the work unpleasant?
When students don't appreciate the services, or when they fake symptoms, in what Chauke describes as "sick-role behaviour".
What about the strange things?
"Everything is strange here, but in a good way," Mathivha jokes.
---
This work is licensed under a Creative Commons Attribution-NoDerivatives 4.0 International License.
Please view the republishing articles page for more information.
---