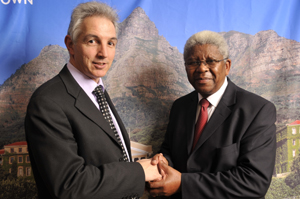 (Left) Dr Max Price and Archbishop Njongonkulu Ndungane.
As a centre of excellence, UCT should produce top-class graduates who will uplift the nation, said Archbishop Njongonkulu Ndungane after his appointment as chair of the new 30-member UCT Council on 6 August.
The new deputy chair is Thando Mhlambiso, managing partner of Seaview Partners.
Archbishop Ndungane is a past student of UCT, and was awarded an honorary doctorate (PhD) by UCT, in 2003.
"In the 1960s I was a student here, but instead of graduating at UCT, I graduated at Robben Island," he said.
"I am greatly humbled and honoured by the confidence that the Council has placed in me to elect me as chair. The challenge is to make sure that the policies of the university are implemented in a way that will assist the institution to achieve academic excellence for the various students as well as the staff.
"It is also to maintain the high standards that the university has set for itself, and also to improve where necessary."
Vice-Chancellor Dr Max Price welcomed Archbishop Ndungane's election.
"We're delighted to welcome Archbishop Ndungane back to our campus in this new role. In him we have a formidable ally; a proven leader whose values and vision mirror the university's so closely, and one who understands what needs to be accomplished and where our energies should be concentrated."
Known for ploughing his energies into development and poverty alleviation, Ndungane said his appointment aligns squarely with the university's principal notions.
"These are to change the world for the better through developing people. The university strives to build a future by shaping future leadership, which has been one of my primary objectives.
"My big vision has always been to give back time and energy towards nation-building and producing leaders, and this [appointment] aligns with our development work. The whole question of investment in human capital fits snugly with development ideals."
Ndungane is founder and president of African Monitor. He also heads the Historic Schools Restoration Project (HSRP), which works to recapture the heritage of and transform historic schools (those that played a key role fighting apartheid) into "sustainable, aspirational" African institutions of educational and cultural excellence.
A graduate of Brown University and with a JD and an MBA from Columbia University, deputy chair Mhlambiso is a founding partner of Kagiso Ventures Private Equity Fund and of Genesis Capital Partners.
The Council governs the university and is constituted according to the provisions of the Higher Education Act, 1997, and the University of Cape Town Statute.
Its responsibilities include determining the mission, objectives, goals, strategies and policies for the progress of the institution. It must also ensure an environment conducive to efficient, effective, economical and ethical attainment of these goals.
In addition, the Council has a responsibility to maintain and ensure a financially secure, healthy and viable environment, and to account for all decisions taken at UCT, including the submission of the required reports and documents to the Minister of Education.
The Council consists of the executive officers, other employees of the institution, students and people who are not members of staff or students of the institution (who must make up at least 60% of the total membership).
---
This work is licensed under a Creative Commons Attribution-NoDerivatives 4.0 International License.
Please view the republishing articles page for more information.
---