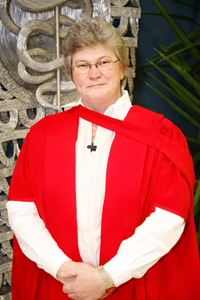 In her inaugural lecture on 30 July Professor Di McIntyre took a critical look at the current health system and the challenges facing it.
Titled Just health care: people or profits?, McIntyre's lecture considered particularly how the growth of the private for-profit health sector and the systematic under-resourcing of the public health sector - despite the growing demands placed on it related to the HIV/AIDS epidemic - has brought the South African health system to a point of crisis.
She highlighted the massive inequities in the resources available in the public and private health sectors relative to the size of the populations served by each, with the majority of funds and health professionals being in the private for-profit sector which mainly serves the 14% of the population who are covered by medical aid schemes.
McIntyre challenged recent press reports that have called for the removal of regulations on the private for-profit sector and outlined how leaving this sector to its own devices will only drive up the costs of health care even more, and will further undermine efforts to provide health services that benefit all South Africans.
She then referred to plans to introduce a National Health Insurance (NHI), in line with a resolution adopted at the ANC's Polokwane conference in December last year. The goal of the NHI will be to transform the health system so that individuals can contribute to funding health care according to their ability to pay, and benefit from it according to their need for health care. McIntyre called for substantial increases in public spending on health care, increased autonomy and improved governance in public hospitals, and an expansion of publicly funded primary care services that draw on accredited group practices, staffed by general practitioners, primary health care nurses and other health professionals.
A well-functioning, publicly-funded health system could contribute significantly to redressing inequities not only in health status, but also in income distribution, she said.
"Di McIntyre . . . along with William Pick and Steve Taylor, launched the very first health economics academic unit in Africa. With Di's leadership and extraordinary vision and passion, that unit is now known globally for its research on many aspects of public health sector financing, for the strength of its master's programme in health economics; and for having populated every Anglophone African country with a health economist. And at its helm has been this remarkable woman who has achieved academically, made huge contributions to local, national and global health, and has remained true to her mission: to develop African health economic capacity, to contribute to an evidence base for policy, and most of all, to promote equity in health." (An excerpt from the introduction by Prof Marian Jacobs, Dean of the Faculty of Health Sciences, at the inaugural lecture.)
Biography
McIntyre has a BCom, BA (Hons), MA and PhD, all from UCT. She has worked at UCT for over 20 years, starting as a lecturer in 1988 and progressing via ad hominem promotions to professor in 2008. She founded the Health Economics Unit (HEU) in 1990, and served as director for 13 years. She was recently appointed the South African Research Chair in Health and Wealth.
She has a passion for developing and sustaining African health economics capacity. McIntyre established a research internship program within the HEU and the only health economics master's programme in Anglophone Africa, from which about 100 students from all over Africa have graduated. She also initiated the Health Economics and Policy Network, a capacity-strengthening and retention network in eight African countries.
McIntyre's research has focused on health care financing and expenditure, particularly on how to promote justice and equity in health systems. She has particularly highlighted inequities in the public-private health sector mix, and the implications of growing commercialisation of health care financing and provision on the public health sector and on equitable access to health care. Her research is focused on contributing to evidence-informed policy-making, in South Africa and in other African countries. She has served on various policy committees, and was also the technical adviser on the health sector for the Presidential Poverty and Inequality Review.
Commented Vice-Chancellor, Dr Max Price: "This particular inaugural lecture is very close to my heart. Being a health economist myself and having worked with Di since 1988, I appreciate the importance of her work. She is undoubtedly one of the leading health economists on the sub-continent. Her inaugural lecture typified precisely what I believe inaugural lectures, academic work and UCT should be about. UCT must be a home for the public intellectual, vigorously debating in and outside of UCT the merits of their case, in so doing influencing policies, creating change in society and being a voice and activist for those who are vulnerable in out society."
---
This work is licensed under a Creative Commons Attribution-NoDerivatives 4.0 International License.
Please view the republishing articles page for more information.
---