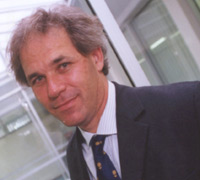 Professor Mark Solms, current Chair of Neuropsychology at UCT and Groote Schuur Hospital (Departments of Psychology and Neurology) has received the Arnold Pfeffer Prize for his contribution to neuropsychoanalysis.
David Milrod, chair of the committee and of the New York Psychoanalytic Institute, described Solms as "a rare modern-day colossus" and a worthy recipient of this, the most prestigious award in the field. Previous award winners are Antonio Damasio, Jaak Panksepp and Nobel Prize winner (Physiology or Medicine, 2000) Eric Kandel.
Solms' award lecture, What is Repression?, outlined the brain mechanisms underpinning this pivotal psychological phenomenon.
The summary reads: "From the outset, the concept of repression has been fundamental to psychoanalytic theory. In recent years, scattered observations have accumulated in the neurosciences, which seem relevant to our understanding of this concept. In this presentation, these observations will be integrated into a comprehensive formulation of what the neurological mechanisms of repression might be."
Solms has made his major contribution in the area of sleep and dream research and his previous honours include the 2002 American Psychiatric Association's International Psychiatrist of the Year Award. He is best known for his discovery of the forebrain mechanisms of dreaming, and for his pioneering integration of psychoanalytic theories and methods with those of modern neuroscience.
---
This work is licensed under a Creative Commons Attribution-NoDerivatives 4.0 International License.
Please view the republishing articles page for more information.
---