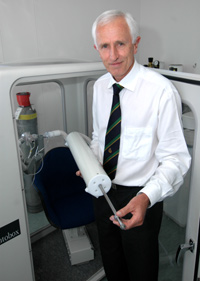 UCT's Professor of Respiratory Medicine, Eric Bateman, has been appointed chairperson of the Global Initiative for Asthma (GINA), becoming the first person from a developing country to lead the group.
GINA works with health-care professionals and public health officials around the world to reduce asthma prevalence, morbidity and mortality.
Bateman, the founder of UCT's Lung Institute and head of the Division of Pulmonology in the Department of Medicine, has been involved in GINA for the last six years, four years serving as chair of the 96 country-member body's Science Committee, which develops evidence-based guidelines for treatment of the condition. In this capacity, Bateman has worked hard to improve representation from developing countries and to ensure that the guidelines are global and applicable.
"It's nice that we (developing countries) have made it to leadership positions in asthma care in the world," he said.
An important component of the work of GINA is dissemination and implementation, and the GINA asthma management guidelines are the most widely quoted and used documents for this condition. In their latest revision, edited by Bateman, they have been successfully simplified in the hope of ensuring improved care and access to care for asthma sufferers.
The challenge in implementing guidelines is to partner with governments health departments and involve the community at large. "Countries do spend money on treating asthma but some do not spend it well. We need to encourage them to adopt effective strategies and purchase effective treatments," Bateman said. He added that he was "enthusiastic" about the work and wanted to see improved care for asthma patients around the world in his four-year term.
---
This work is licensed under a Creative Commons Attribution-NoDerivatives 4.0 International License.
Please view the republishing articles page for more information.
---