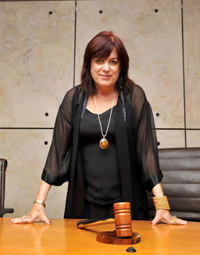 There's a gentle irony that the first woman at UCT to clinch a National Research Foundation A-rating - and an A1 rating at that - is also a feminist scholar.
Besides women's studies, UCT's 27th A-rated researcher is also a professor of political science and comparative literature from Rutgers University. She has a BA in philosophy and mathematics from Antioch College and her Juris Doctor (JD) from the University of California Los Angeles Law School.
One of only seven A-rated women in the country, Cornell joined UCT just last year as professor in private law, taking up the new South African Research Chairs Initiative (SARChI) chair in customary law, indigenous values and dignity jurisprudence.
Formally, her work is to develop a jurisprudence that encompasses Roman Dutch Law and ubuntu, or "people's law", an amalgam of ethics that can deal with the complex demands of the South African Constitution, bringing together the best of Europe and Africa.
It's work that will will involve ethnographic research in six of the nine provinces to study on-the-ground developments in customary law.
For Cornell, ubuntu is "not a simple community ethic but a more profound idea", a signal of a much bigger ethic, one with profound legal and political nuances.
She was instrumental in establishing the Ubuntu Project, one developed out of the Stellenbosch Institute for Advanced Studies.
"From the beginning of my ubuntu project, my primary interest was to examine whether or not the proliferation of ubuntu discourses in politics, law and indeed on television and popular culture more generally, could be considered a crucial aspect of the democratisation of the customary in South Africa."
To get close to the community and ubuntu ethic, Cornell did something most white South Africans would baulk at. She went to work as a sangoma's assistant in Khayamandi, Stellenbosch, where the sangoma was everything from a healer and diviner to a legal negotiator.
"I helped stir herbal remedies and helped with the rituals."
Cornell is something of a mosaic. A produced playwright (The Dream Cure, Background Interference) she has been a political activist since the age of 15. Before embarking on an academic career she was a union organiser.
She played a key role in organising the conference on deconstruction and justice at the Benjamin N Cardozo School of Law at which Jacques Derrida is thought to have made his definitive philosophical turn towards ethical thought.
Cornell is a prolific writer, having authored some nine books and countless articles on critical theory, feminism and postmodern theories of ethics. Her newest offering is a book on actor and director Clint Eastwood, no less, whose work she admires.
"He's working in Hollywood genres to undo the hubris of masculinity and violence."
---
This work is licensed under a Creative Commons Attribution-NoDerivatives 4.0 International License.
Please view the republishing articles page for more information.
---