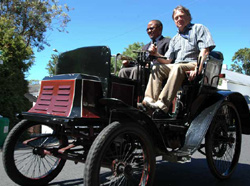 Cruising: Vice-Chancellor and Principal Njabulo S Ndebele is given a spin in the oldest car in South Africa, a 1901 Benz Ideal, by Harvey Metcalf from the Crankhandle Club.
While doing research on vintage cars for his new book, Vice-Chancellor and Principal Njabulo S Ndebele made an interesting find: the oldest car in South Africa. Not only does it still run, he discovered, but it also has a long history with UCT.
Now in the care of the Crankhandle Club in Wynberg, the 1901 Benz Ideal began its relationship with the university in 1933, when mechanical engineering student Tony Darvall borrowed the car from his aunts to run it in the Rag procession. He then persuaded them to donate the car to the university, and the car was often used in Commemoration Day celebrations.
In 1957 the Benz was entrusted to the Crankhandle Club, who rebuilt the car and restored it to its original condition. It has been housed at the Wynberg Clubhouse for 41 years.
Still going strong, the noisy little horseless carriage can go as fast as 32 km/h, but it takes a vintage car expert to drive it. "Nothing is where you'd expect it to be," explains Crankhandle Club member Harvey Metcalf. "In fact, it helps if you don't know how to drive a modern car."
The Benz is still a feature of car rallies and exhibitions around the country.
---
This work is licensed under a Creative Commons Attribution-NoDerivatives 4.0 International License.
Please view the republishing articles page for more information.
---