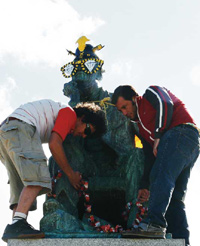 Extreme makeover: Adam Cooper and Marc Nicolson dress up the Cecil John Rhodes statue at the foot of the Jammie Steps like a South African soccer supporter on Heritage Day.
It was a whole new look for Cecil John Rhodes. His statue, which stands at the foot of the Jammie Steps, was transformed from an icon of colonialism to a South African soccer supporter by cultural activist group, the Kultural Upstarts Kollective, on Heritage Day, complete with huge sunglasses, miner's helmet and a vuvuzela.
The group, which includes former UCT students Clinton Osborne, Adam Cooper and Raffaella Delle Donne, decorated the statue to create "a hybridised product of the old and the new South Africa".
Delle Donne explains: "What we were hoping to achieve is to show that symbols like statues don't have to remain static reminders of our oppressive past, but can be reinvented in creative ways to make meaningful statements about the present."
The plan was to leave the statue decorated for the next three weeks, but someone had other ideas. By the morning of the 25 September all the decorations had vanished, and Cecil John Rhodes was back to his old self.
"I suspect it was for political reasons because of the effort someone went to ensure that every last detail was removed and so quickly after we put it up," suggests Delle Donne. "But on the other hand, it could have been someone who was keen to have a cool costume for the next soccer match."
---
This work is licensed under a Creative Commons Attribution-NoDerivatives 4.0 International License.
Please view the republishing articles page for more information.
---