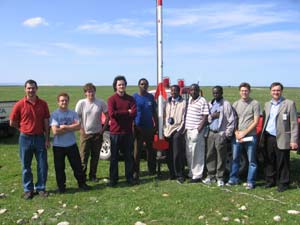 Right stuff: Postgraduate students on the Introduction to Space Technology course launched their rocket at the Overberg Test Range near Arniston recently.
Postgraduate electrical engineering students on the Introduction to Space Technology course recently launched a two-stage rocket with several instrument payloads at the Overberg Test Range, Arniston.
Course co-ordinator Dr Peter Martinez said: 'This year marks the 50th anniversary of the Space Age. South Africa is establishing a national space agency and it's important to ensure that we have adequately trained space scientists and engineers to carry out the future national space programme.'
The students have been taught by experts from nine leading space facilities, their lectures complemented by a team project on the design and construction challenges of a real launch.
'It's one thing to build an experiment for the lab bench, but quite another thing to build an experiment with very tight volume, mass and power constraints that has to survive the shock of a rocket launch and recovery,' Martinez said.
The rocket's payloads included two onboard cameras, a flight computer, sensors, a GPS module, telemetry and associated ground-receiving equipment. The first stage of the rocket achieved an altitude of 600m.
'Although the upper stage motor failed to ignite, the flight was a great success in terms of validating the rocket motors, instrumentation and various flight and safety procedures,' Martinez noted. The flight data will be used to analyse the rocket's performance and to improve its capabilities.
---
This work is licensed under a Creative Commons Attribution-NoDerivatives 4.0 International License.
Please view the republishing articles page for more information.
---