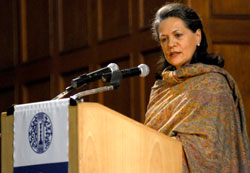 Indian leader Sonia Gandhi delivered her lecture to a packed Jameson Hall on 23 August.
Sonia Gandhi, leader of India's ruling Congress Party, was greeted with a standing ovation before delivering her public lecture to a packed Jameson Hall on 23 August.
Gandhi was here to launch a series of lectures, the Gandhi Lecture Series, which celebrate the centenary of Mahatma Gandhi's philosophy of non-violent struggle against oppression which, she argues, remains relevant and can still be effective against present-day injustices.
'His generalship lay not in making war but in waging peace. '˜There are many causes that I am prepared to die for', he said, '˜but no causes that I am prepared to kill for',' said Gandhi in her lecture. 'Here in South Africa, Nelson Mandela is a shining embodiment of that vision. The whole world celebrates the achievement of him and his fellow freedom fighters.'
Gandhi referred to her visit to South Africa as 'a pilgrimage', as it was here that Mahatma Gandhi began his lifelong struggle against oppression before focusing on India's liberation from British colonialism.
Established by the Government of India, the Gandhi lecture series will take place in major universities around the world.
During her visit to South Africa, Gandhi met with both Nelson Mandela and President Thabo Mbeki.
For a full transcript of Gandhi's inaugural lecture, click here
---
This work is licensed under a Creative Commons Attribution-NoDerivatives 4.0 International License.
Please view the republishing articles page for more information.
---