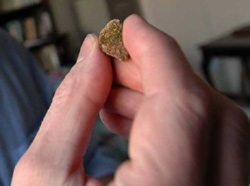 It grows on you: Prof Terry Hedderson has discovered Ludorugbya springbokarum, a new moss genus and species that he's dedicated to the Springbok rugby team.
If it's true that a scientist discovering one species of anything in a lifetime can count himself fortunate, then Associate Professor Terry Hedderson has hit a mossy mother lode.
Hedderson, an evolutionary biologist in the Department of Botany, and colleague Dr Richard Zander of the Missouri Botanical Garden in the US have identified not just one new species of moss, but an entire genus, the taxonomical class that species belong to. The two describe their find, which they've baptised Ludorugbya springbokorum, in an upcoming article in the Journal of Bryology.
Ludorugbya, found exclusively in dwindling renosterveld fragments in the Swartland region, stands out in many ways, writes Hedderson. From its distinctive small plants to the unusually minor role played by the peristome - a fringe of toothlike appendages surrounding the mouth of a moss capsule - in the dispersal of spores.
The moss' name will likely catch the eye as well.
Hedderson, Canadian by birth, is an avid rugby and Springbok fan. And the game had its part to play in the discovery. (No, it had little to do with erstwhile Springbok coach and UCT stalwart, Cecil "Doc" Moss.)
"The first collections were made during a diversion from field studies to a nearby town to watch a televised rugby match," says Hedderson.
And coincidentally, in its dry state, Ludorugbya's capsule looks remarkably like a rugby ball.
---
This work is licensed under a Creative Commons Attribution-NoDerivatives 4.0 International License.
Please view the republishing articles page for more information.
---