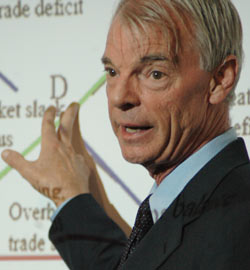 Sleeping giants: 2001 Nobel Laureate in Economics, Professor Michael Spence, spoke on China and India's high growth rates at a special seminar at UCT on 14 June.
China is building cities as big as Los Angeles every year, part of its phenomenal growth since 1978 in what Stanford University's Professor Michael Spence described as an 'amazing and chaotic process'.
The 2001 Nobel Laureate in Economics was speaking on the economic boom in China and India at a seminar hosted by Economic Research Southern Africa and the National Treasury at UCT on 14 June.
China is one of 11 post-World War II states '" mostly East Asian Tigers, but also Botswana, Africa's only entry - that have boasted annual growth rates of over 7% in the past 20 years. Twelve years behind China, India is about to join the high-growth category.
To fuel their growth, China capitalised on infrastructure and education, with high literacy rates among men and women. India, however, has lower literacy, especially among women, and, despite excellent higher education, 'big deficits' in infrastructure.
'If you don't have this, you have one hand tied behind your back.'
China's challenge will be to maintain high growth, manage economic relations with the world - and manage urban migration, occurring at a rate of 13 to 15 million people a year.
By comparison, India's rise has been underpinned by its vaunted IT industry, with a projected 30% annual growth rate.
'But they don't employ enough people,' said Spence. 'India needs manufacturing and exports to drive its growth.'
---
This work is licensed under a Creative Commons Attribution-NoDerivatives 4.0 International License.
Please view the republishing articles page for more information.
---