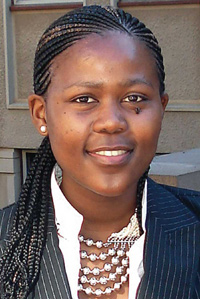 Born for such a time as this
Today we honour the soldiers and martyrs who braved the streets in 1976, young men and women, who, pregnant with the conviction, marched the streets on a freedom journey for quality education, and a transformed South Africa. The gains of their labour pains were the birthing of a vigilant and militant youth movement. One that girded their loins for battle, that disowned the yoke of apartheid, that toiled the arid soils and broke their backs to realise a new democratic order that belonged to all. They had finally realised that they were born for such a time. And they took to the streets in demonstration.
The old adage that the future of any country lies with its youth and the 1976 legacy now compels us to take our place in today's struggle. The struggles of their day and the demands of ours compel us to be vanguards of societal change, for us as young people to re-position ourselves to be at the centre stage of social reformation and transformation. As young intelligentsia we need to be at the forefront of the economic, social and political struggles of our beloved country and continent. In essence, we must wage war against poverty and unemployment, social disintegration and moral degeneration, HIV/AIDS, and all forms of social injustices and inequalities, and to striving to ensure a better life for all. We must honour this yoke by being co-creators or partnering up with social institutions (ie government, the Youth Commission, NGOs) and forming coalitions to address the malaise that plagues our society. We must participate actively in processes and structures to diagnose root problems (not just symptomatic ones), to develop strategies and solutions of lasting and public value; to effect change. This is how we obtain our social licence to operate in the land, and how we gain and maintain our legitimacy as citizens of the land.
Let us therefore, as we salute the children of 1976, prepare our feet for battle. Let us fight with determination and vigour the malaise confronting our society, so that the actions of the heroes and heroines of June 16, 1976, are not in vain. Let us toil our lands to ensure that "the daughter of a peasant can become a doctor, that the son of a mine worker can become the head of the mine, that the child of farm workers (that she too) can become the president of a great nation" (Nelson Mandela). For we, too, were born for such times as these.
As the SRC we salute the children of 1976. We honor their memory and raise our banners as we recognise their sterling contribution towards realising a better South Africa for all.
As we, the SRC of the University of Cape Town, celebrate 100 Years of student leadership, may the songs which were sung in 1976 resonate in our hearts and the hearts of our students, our history-makers. May our hearts sing for many generations to come.
Yours in good governance
Zuki Mqolomba
SRC President
---
This work is licensed under a Creative Commons Attribution-NoDerivatives 4.0 International License.
Please view the republishing articles page for more information.
---