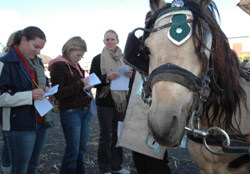 Never look a gift horse in the mouth: Teaching students learn about the
correct harnessing techniques during their recent field trip to the Cart Horse Protection Association in Epping.
Every Tuesday morning, the group of Postgraduate Certificate in Education students are out in the field; literally so on 5 June when they visited the Cart Horse Protection Association (CHPA) in Epping.
For the second year running, Associate Professor Kevin Rochford has taken his Natural Science and Technology class on a fieldtrip to the CHPA. His mission, Rochford says, is to train these primary-school teachers in-the-making 'to appreciate and be sensitive to animals and the conditions of the local community'. The kind of humility a textbook cannot teach.
And where better to get these skills.
'Our mission here is to empower, educate and support,' says Dee Terblanche, inspector at the CHPA. That's empowerment for the staff who receive equine technical training, and education for cart horse owners on proper care of their steeds.
The non-profit organisation, now 11-years old, is the only animal welfare association in Cape Town dedicated solely to cart horses and their owners. They provide a subsidised service, from veterinary care to feed and a mobile clinic, to over 500 horses, most of which spend their lives carting scrap metal.
---
This work is licensed under a Creative Commons Attribution-NoDerivatives 4.0 International License.
Please view the republishing articles page for more information.
---