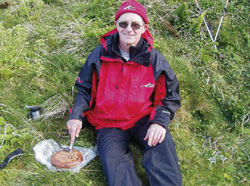 View from here: John Cooper found himself at the base of Edinburgh Peak on blustery Gough Island come retirement day. He celebrated the formal end of his 34-year UCT career - and his 60th birthday - with a slice of "well-travelled" fruitcake.
Albatross expert John Cooper marked his retirement on a remote island in the Southern Ocean, doing what he loves best - conservation
For some, retirement parties mean a hot lunch at the UCT Club with a clutch of colleagues. Not so for ornithologist John Cooper of the Avian Demography Unit.
As could be expected of a man who has spent most of his life studying and conserving albatrosses, retirement day found Cooper on Edinburgh Peak on Gough Island, in the Southern Ocean. No emotional adieus, or speeches scribbled on the back of old funding proposals.
Carrying eight days' supplies, with some ropework off the cliffs to look forward to, he did stop to slice a fruitcake.
"I spent my last official working day a long way from the office, along with a well-travelled birthday cake!"
Cooper was part of a six-season expedition that spent a month undertaking albatross surveys and alien-plant eradication management on Gough. Slung from ropes, Cooper and a professional climber spread herbicides to eradicate the invasive, moss-like Pearlwort, Sagina procumbens, that grows on the cliffs.
"Thirty-four years is long enough," Cooper said of his UCT career. "But I've been lucky. I've travelled all over the world, including to some starkly beautiful places. Sea birds breed in dramatic settings: on islands, cliffs and wetlands.
"We get to where other people can't, like Gough and Marion Islands, to have conversations with birds like albatrosses."
But with an honorary research associateship in his pocket, Cooper won't be retiring completely. He has contractual work on Tristan da Cunha and conservation plans to administer on both Tristan and Gough Islands.
He's drawing up quarantine protocols for all four islands - Tristan, Gough, Inaccessible and Nightingale - to prevent rats, cockroaches and weeds, that come off visiting ships, infiltrating the local flora and fauna.
International Biodiversity Day on 22 May saw him back on Gough where he has joined the effort to rid the islands of rodents - the black rat on Tristan da Cunha, and mice on Gough, the latter probably brought by British ships in the 19th century. These mice are eating albatross chicks alive, posing a severe threat to the albatross colony.
Cooper has recorded other memorable moments on islands most would struggle to find on a map; sanctuaries where rare and threatened seabirds breed.
Though not formally versed in legalese, he penned the conservation ordinance for Tristan da Cunha, The Conservation of Native Organisms and Natural Habitats (Tristan da Cunha) Ordinance 2006. The enactment was part of Tristan's quincentenary celebrations last year.
The island is an important breeding site for endemic sea birds, including the Tristan Albatross.
A passionate advocate for albatross conservation, Cooper was appointed an honorary conservation officer of Tristan back in 1990.
In an interview he once quipped: "I now have the power to arrest ships and order them to proceed to the nearest port."
Working with governments and conservation bodies, Cooper's travels have taken him to over 40 countries. In Asia he's run along the Great Wall of China and around the Japanese Imperial Palace.
Next up is a trip to Chile. Cooper is vice-chair of the advisory committee of the Agreement on the Conservation of Albatrosses and Petrels (ACAP), of which South Africa is a full member.
---
This work is licensed under a Creative Commons Attribution-NoDerivatives 4.0 International License.
Please view the republishing articles page for more information.
---