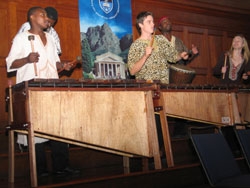 Gifted: AmaAmbush Marimbas provided entertainment at Postgraduate Orientation 2007.
The Student Orientation and Advocacy Centre (SOAC) hosted Postgraduate Orientation 2007 '" the first such event at UCT '" on 29 May.
Local and international postgraduate students packed into Jameson Hall for the occasion, which was designed to showcase the facilities, services and opportunities available to them at UCT. They also got to hear about the work of, among others, the Postgraduate Funding Office, the Centre for Higher Education Development and the International Academic Programmes Office.
It was the first time that a university-wide postgraduate orientation has taken place, as departments and faculties had conducted these in the past. A similar event is planned for next year, which is set to include faculty programmes.
Deputy vice-chancellor Professor Cheryl de la Ray, who is responsible for postgraduates, said they had been informed by the corporate world that UCT graduates are expected to be adaptable and be able to work anywhere in the world. She said a lot was being done to prepare postgraduates for diverse, dynamic careers, mentioning the Postgraduate Centre as an example.
SRC president Zukiswa Mqolomba said postgraduate students had important roles to play in the community, and urged them to 'move outside your comfort zones and use your influence and power to empower society'.
'We are young for a reason,' she said. 'Be a history maker. Make your mark at UCT, make your mark in Africa and in the world.'
Download
full speech by Zukiswa Mqolomba.
---
This work is licensed under a Creative Commons Attribution-NoDerivatives 4.0 International License.
Please view the republishing articles page for more information.
---