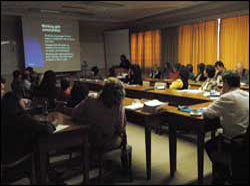 Reaching out: Delegates at the recent Social Responsiveness Colloquium, the university's first.
The 2006 Social Responsiveness Report drew attention to the work of some academics in local communities - now a colloquium has analysed the projects to see what more UCT can do.
The presentations and debates were different in nature, but had one thing in common - they showed what UCT does to improve the quality of life in broader society.
The question on the table at the university's first Social Responsiveness Colloquium, as Professor Frank Horwitz, chairperson of the Social Responsiveness Working Group, put it, was to what extent does the academic work of UCT impact on South African communities?
At the colloquium, held on 16 May, staff and students had the opportunity to present insights on their work covered in the 2006 Social Responsiveness Report, and how it responded to varioius needs in South African society.
Dr Nokuthula Shabalala, speaking on the work of the Child Guidance Clinic, explained that they encourage students to work with communities and engage them in policy and in practice.
The clinic set out to bridge the gap between the university and communities, said Shabalala, and produce new crops of psychologists who are committed to all citizens, not just those who can pay private practice fees.
"We want to include qualified practitioners in our drive for transformation," she said.
She also showed how research conducted in the community-based clinics is producing new knowledge and theories that challenge what is found in textbooks in other countries. According to Shabalala, generating new knowledge and developing professionals who challenge conventional theories is a critical aspect of social responsiveness.
The aim of the colloquium was to promote debate and to foster "communities of practice" for social responsiveness within UCT, among other things.
As the colloquium also intended to consolidate and strengthen existing social responsiveness initiatives, various forms of social responsiveness were analysed, and the implications arising from these were explored.
---
This work is licensed under a Creative Commons Attribution-NoDerivatives 4.0 International License.
Please view the republishing articles page for more information.
---