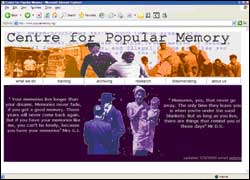 The Centre for Popular Memory (CPM) has launched a vast online archive, using material gathered through its 21 year history.
For now, all material within the CPM's physical archives that have the necessary copyright release has been entered into this online database, accessed at www.popularmemory.org. The archive will be made up of transcripts, translations, photographs and, shortly, audio and video streams.
The physical archive holds over 2 100 hours of audio and video footage collected over the past 21 years. That includes 1 500 hours of analogue audio recordings in five languages, crossing race, class, gender and population lines.
In these recordings, South Africans talk on everything from forced removals, life histories and immigration to AIDS, trauma and contemporary popular culture.
While the centre has its origins in audio interviews, it's archive also has about 300 hours of unedited video footage, including material on the 1960 Langa March, the 1980s pass boycott, and the impact of the 1999 hurricane on Manenberg.
At the same time, the CPM is building up a visual archive of photographs, diaries, performances and documents. It sees the library as a way to preserve and celebrate South African people and history, says Renate Meyer, senior audiovisual archivist.
"We wanted to move away from the physical barriers that archives tend to have. We wanted to create something that was accessible and by developing the online archive, we broaden the possibility of who gets to use our archival material."
The centre sets the bar high for its archives. It wants to use oral history, visual history and digital archiving to contribute to social development and democratisation, says Meyer.
The new online archive slots in well with one of the CPM's thrusts - disseminating memories and stories to various audiences.
At the same time as launching its online archive, the Centre for Popular Memory also released a new book, Imagining the City: Memories and cultures in Cape Town. The volume presents oral and visual histories drawn from people who live, work and creatively express themselves in the city. The book panders neither to the glossy tourist brochure image of the multicultural city, nor the historical descriptions of Cape Town as a violent, racist and un-African city. It was researched, written and produced by the staff and students at CPM. is edited by Dr Sean Field, Renate Meyer and Felicity Swanson, and is published by the HSRC Press. Other contributors include Sofie Geschier, Anastasia Maw, Iyonawan Masade, Gabeba Baderoon, Colin Miller, Ncedisa Nkonyeni, Louise Green and Thabo Manetsi.
---
This work is licensed under a Creative Commons Attribution-NoDerivatives 4.0 International License.
Please view the republishing articles page for more information.
---