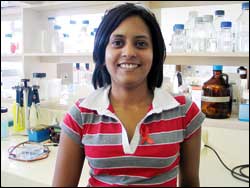 Dheshnie Govender
Classes are all wrapped up, and everyone's all caught up with graduation. Nothing else's happening on campus, right? Think again. There's been a frenzy of activity in and around campus over the past weeks, with more happening over the coming months. Too much for the pages of Monday Paper, but here's a summary. (Our apologies to those whose stories we could not accommodate.)
The recently launched book, Benguela: Predicting a Large Marine Ecosystem, is being regarded as the definitive work on the variability and predictability of the Benguela Current Large Marine Ecosystem (BCLME). This 400-page volume, the fourteenth in the Large Marine Ecosystem Series, is a product of the International Workshop on Forecasting and Data Assimilation in the Benguela and Comparable Systems, held in Cape Town in November 2004. A special feature is the inclusion of a CD-ROM containing a wealth of supplementary information, such as detail on the Benguela Forecast Workshop, observations, animations and models. Among the editors were Hon Prof Vere Shannon of the Benguela Current Large Marine Ecosystem Programme (BCLME) and Dr Colleen Moloney of UCT's Department of Zoology. Twelve of the contributing authors are from UCT's oceanography and zoology departments.
The International Atomic Energy Agency (IAEA) Nobel Prize will hold the African Regional Special Event on Human Resources Development in Radiation Oncology in the Context of Cancer Control Programmes in Cape Town this week. Cancer is largely a neglected epidemic in Africa. The IAEA Nobel Cancer and Nutrition Fund was created to use the IAEA's share of the Nobel Peace Prize 2005 for capacity building in the priority areas of cancer and childhood nutrition. The fund is being used to support activities such as the Special Event in Africa. This gathering is intended to promote the need for comprehensive cancer control and treatment programmes, which are being pursued through the IAEA's Programme of Action for Cancer Therapy.
Participants from different African universities and research institutes attended a three-week, high-level seminar on Sexualities, Gender, and Research Methodologies at the African Gender Institute (AGI) in November. The AGI also offers this course, which is taught by Prof Jane Bennett and Dr Charmaine Pereira, in July. The participants are all researchers working on different projects, including widow inheritance, adherence to antiretroviral drugs and sexual rights. "This is a first for the African continent - and certainly for UCT - and the AGI is privileged to have been given a chance to work in this way," said Bennett. With funding from the International Development Research Centre and the Ford Foundation, the programme will be run again in 2007 and 2008.
November was a month of crowning points for Assoc Prof Kelly Chibale of the Department of Chemistry. First came news of his ad hominem promotion to full professor. Then followed confirmation of his appointment as chief co-ordinator of the Global Institute for Bioexploration (GIBEX) - Africa, an organisation working to validate and develop traditional medicines. Chibale was recently handpicked to direct the World Health Organisation's Tropical Diseases Research unit at UCT, one of the WHO's synthetic/medicinal chemistry's centres of excellence. He is also a founding and steering committee member of the South African Malaria Initiative (SAMI), which recently received R11.5-million over three years from the Department of Science and Technology.
Dr Collet Dandara, a postdoctoral fellow in the Division of Medical Biochemistry, is UCT's latest Y-rated researcher following the recent rounds of ratings by the National Research Foundation (NRF). Y ratings are awarded to young researchers, usually under 35, who show the potential to establish themselves as researchers within five years. Dandara's work centres on, firstly, pharmacogenetics, the study of the genetic basis of drug response, and, secondly, genetic susceptibility, the inherited risk to develop a disease. In one study, Dandara and colleagues are using pharmacogenetics to understand the basis of drug response in HIV/AIDS and tuberculosis treatments, with patient groups defined according to their genotype.
The Vice-Chancellor and Principal, Professor Njabulo S Ndebele, has hosted a meeting to discuss the role of universities in harnessing information and communication technologies (ICT) for economic development. This November meeting was the first of the Frontiers of Knowledge in Science and Technology for Africa, a project of the University Leaders' Forum. A key objective of the Frontiers of Knowledge project is to strengthen the relationship between the higher education sector (represented by university vice chancellors) and the science and technology sector (represented by science academies) in Africa.
Doctoral student Dheshnie Govender, based in the Department of Human Biology, has won the 2006 Saturday Star Young Science Writers Competition, hosted by the South African Agency for Science and Technology (SAASTA). For the competition, entrants were asked to write a 700- word scientific essay that is accessible to the public. Govender's essay, A Silver Lining, dealt with stem cells and greying hair. For winning, SAASTA will fly Govender to the 2007 American Association for the Advancement of Science meeting in San Francisco. Govender has also just returned from the European Pigment Cell Conference in Barcelona, where she scooped the best poster prize for her poster on the migrations of melanocytes, the pigment-producing cells of the skin.
Prolific writer, poet and novelist Prof Joan Hambidge has released her latest volume of poetry, Dad, and it is already on the South African best-sellers list. For the collection, Hambidge has selected all the poetry she has ever written about her father since her debut, Hartskrif, and combined them with more recent, unpublished poems after his death in February. The poems are personal comments on death, loss and the relationship with her father, she says. Dad is published by Genugtig Publishers in Cape Town.
The Association for Educational Transformation (ASSET) has renamed its Mowbray building the George Ellis House, in honour of the UCT distinguished professor of complex systems. Ellis was recognised for his "significant contribution" to ASSET, an NGO that provides educational and financial support for disadvantaged students. Ellis is a member of the ASSET board, which is chaired by Assoc Prof Pumla Gobodo-Madikizela, also of UCT.
The Department of Hebrew and Jewish Studies will be disestablished at the end of 2006, as well as the department's major in Jewish studies. The changes come out of a plan to restructure smaller departments and provide critical mass within the Faculty of Humanities. So from 2007, the Hebrew language and literature courses will be taught within the School of Languages and Literatures. In turn, Jewish studies courses will be taught in the appropriate disciplines - the Departments of Historical Studies and Religious Studies. Shain will return to his regular stomping grounds in the Department of Historical Studies, Dr Azila Reisenberger will be located in the School of Languages and Literatures, and Prof David Goldenberg will move to the Department of Religious Studies. A new honours course in Jewish studies has been introduced, which will set students up nicely for master's and doctoral programmes. And the Kaplan Centre will function as an autonomous centre within the faculty, from where its director will oversee the wellbeing of Jewish and Hebrew studies within UCT. (The Cape Jewish Chronicle has kindly allowed UCT to run a November interview with Prof Milton Shain, director of the Isaac and Jessie Kaplan Centre for Jewish Studies and Research, on these changes on the Monday Paper website.)
A group of students from Michaelis School of Fine Art have brought a touch of colour to the lives of patients at Valkenberg Hospital. The second- and third-year students doing the social responsibility elective each designed a wedge in the two rose-window tapestries that now don Valkenberg's new admissions building's foyer. The students also produced a frieze for the men's psychiatric unit walls. "The foyer is the first contact patients and family have with the hospital," says Dr Stephen Lay, unit manager at Valkenberg. "First impressions are important, and these pictures are uplifting."
Last week the South African College of Music (SACM) released its first CD, Full Spectrum - UCT Jazz. The collection, featuring some of South Africa's most celebrated musicians, has been produced by Assoc Prof Mike Campbell, head of SACM Jazz Studies, and contains music by staff, students and alumni of the College. Included in this historical CD are Jimmy Dludlu, Selealo Selota, Breakfast Included, Andrew Lilley, Mike Rossi, Melissa van der Spuy and the acclaimed UCT Big Band. The CD is available from the SACM for R100.
The Electronic Directory Services (EDS) stream of the supaTsela project is finalising Phase II, which concentrates on the implementation of staff and third-party provisioning. Phase II will improve the way new staff members and third parties get access to necessary services. Staff provisioning was successfully implemented in October 2006. Third party provisioning is underway and will be completed by mid-December. Staff members (T1, T2 or T3 contract or permanent staff) who cannot log into the network using their staff number need to verify their account as follows: Log a helpdesk call and provide helpdesk with their current user name and staff number. All third parties need to verify their accounts by completing a BAS03 form that is available on the UCT Administrative Forms list via the ICTS website. For more information, please refer to the supaTsela website.
Transcending postcolonial conditions: Towards Alternative Modernities, a conference of international anthropologists, was held at UCT last week. The conference focused on the predicament of marginalised people in a globalised world. The opening keynote, Law and Disorder in the Postcolony, was delivered by Jean and John Comaroff. Faye Harrison (Florida) delivered a second keynote, titled Negotiating Postcolonial Conditions as Gendered Praxis. The two keynotes set the scene for the discussion of over 200 papers.
For further information, please contact Mugsy Spiegel, Dept of Social Anthropology, or see the conference website, which links from www.uct-cmc.co.za.
Rory Wilson, a former PhD student at the Percy Fitzpatrick Institute of African Ornithology, has bagged a Rolex Award - one of five for 2006 - for his work on developing a "daily diary" for animals. A zoologist, Wilson is renowned for developing ingenious ways to track wild animals and record their behaviour without observing them directly. According to the awards site, his latest invention, a lightweight electronic logger, can go where satellite-based tracking devices can't, to observe animals.
Da Zuma Code, the latest prod at sacred cows by Jonathan Shapiro - better known as political cartoonist Zapiro - features a select few works from, in the words of radio personality Mike Wills, the "staggering output by a very special talent". "Typical to his cartoons, it's brilliant, brave and bloody funny," added Wills. The satirist calls former deputy president Jacob Zuma "the star" of his new book. Zuma is suing Shapiro for some R15-million. It's a point of pride for the artist. "I am being sued for twice as much as any cartoonist in any country has ever been sued for," he says.
For Buhle Zuma, a BSocSci honours graduate and winner, just recently, of a Mandela Rhodes Scholarship, it has been a long walk to freedom. At age 12, his mother fell ill and could not afford to send him to school. From that point on, Zuma fended for his own education costs. In that spirit, he nominated himself for a Mandela Rhodes scholarship this year, and now has the opportunity to study for an MPhil in inter-cultural and diversity studies. "I strongly believe that the Mandela Rhodes Scholarship is designed for individuals who have in them a little Mandela and a little Rhodes," he says.
Team Think Tank from UCT has won the first prize in the software design category of the national Project Firefly Competition, hosted by Microsoft in Johannesburg on December 4. The team of third-year business science students Glynn Allen, Megan Bruyns, Craig Mackintosh, Humbulani Dombo and Dori Kawalsky pipped the Universities of Pretoria and Johannesburg for honours. The team's project, aptly named InterGreat, was designed to ease the laborious manual administrative function of the Go for Gold education programme by providing information management, scheduling, reporting, transaction recording and various other capabilities to the programme. Not only did the UCT team win first prize in their category, but they were also selected as one of the four top student groups who will represent South Africa at the international Imagine Cup competition in Korea in August 2007. Through the Firefly Competition, Microsoft hopes to bridge the gap between academia and industry.
UCT mourns the tragic loss of PhD student Ashley Muller, who was killed by a car near Rondebosch Common.
Muller, who was based in the Department of Civil Engineering, was a month away from handing in his thesis. His wife, Sarah, was on her way from Boston to help him wrap up his thesis when the accident happened. Muller won the South African Association for the Advancement of Science's S2A3 Bronze medal in 2003, the association's highest honour for South African master's students in all fields of science.
His research in wastewater systems underpinned a keen commitment to environment conservation through the effective, efficient and economic treatment of wastewater to the highest standards possible. Our condolences go to his wife, Sarah, their families, friends and colleagues.
On November 24, fifth-year medical students Bulelwa Mboya and Anati Ngcakani were involved in an accident in Swellendam. Mboya died in the accident, and Ngcakani was critically injured. At the time of going to print, Ngcakani was still in a critical condition. Our thoughts go out to both families.
---
This work is licensed under a Creative Commons Attribution-NoDerivatives 4.0 International License.
Please view the republishing articles page for more information.
---