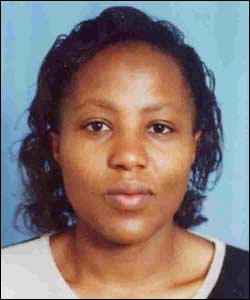 Networking: Doctoral graduates Karanja Kibicho and Keren Kaberere bring the number of USHEPiA graduates to 31 since 1996.
The good times keep rolling for the University Science, Humanities & Engineering Partnerships in Africa (USHEPiA) this week as doctoral students Karanja Kibicho and Keren Kaberere become graduates numbers 30 and 31 to come through the programme.
Kibicho, who hails from the Jomo Kenyatta University of Agriculture & Technology, Kenya, graduates with a PhD in mechanical engineering at the ceremony of the Faculty of Engineering & the Built Environment on December 11. His thesis is on flow-field structure in wide-angled diffusers, a tricky area of fluid dynamics.
In turn, Kaberere, also from the Jomo Kenyatta University, graduates with a PhD in electrical engineering at the same ceremony. In her thesis, Kaberere assessed five industrial-grade power-system simulation tools for small-signal stability studies, work that explains why these tools often come up with different results.
Kibicho and Kaberere both came to UCT on USHEPiA fellowships in 2002.
The support here has been unequalled, says Kibicho. He sings the praises of everyone, from his UCT supervisor, Associate Professor Anthony Sayers, to his sponsors, as well as the staff at All Africa House, home away from home for the USHEPiA fellows at UCT.
And, of course, there was the undivided attention he and the other fellows enjoyed whenever they visited the USHEPiA office. "Sometimes making me feel flattered,'' he says.
USHEPiA, established in 1996, is a partnership of eight south and east African universities that, through PhD fellowships, aims to build capacity and collaboration among established African researchers. USHEPiA's ultimate goal is to develop a network of African researchers that can tackle the developmental needs of the continent.
A point of pride is that to date not one fellow has left the continent after graduation. Another 27 fellows are currently working on their doctorates, while one is pursuing an MSc.
The programme's reputation has spread far and wide, and many other African universities have approached USHEPiA for membership.
The donor organisations currently supporting USHEPiA are the Andrew W Mellon Foundation, the Carnegie Corporation, and the Rockefeller Foundation.
---
This work is licensed under a Creative Commons Attribution-NoDerivatives 4.0 International License.
Please view the republishing articles page for more information.
---