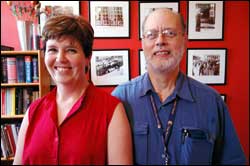 Soul mates: Drs Bev and George Draper return to the graduation podium this week.
This week's medical graduation will seem like déjà vu to Bev and George Draper. Bev will receive her MMed in Public Health and George his MPhil in Education. Both graduated MBChB from the same University of Pretoria class in 1973 (Bev has the photo to prove it!). But this time they will be capping each other.
After graduating, the couple did their internships at Umtata General Hospital in the Eastern Cape, with some relief to mission hospitals there, and then both worked at Moroka Hospital in the Free State and at Manguzi Hospital in KwaZulu-Natal.
George went on to complete two more degrees and Bev was a general practitioner in KwaZulu-Natal for 22 years before venturing into the public health arena.
"The best part was the relationship-building with patients and the families," Bev added. She completed diplomas in counselling and therapy and did a good deal of family counselling on top of her career as a GP.
Married during their fifth year of study ("Our budget was R100 a month!"), Bev says "it was the best time ever".
"It was easier to be married to a fellow doctor. That has always been one of the strengths of our marriage." George also has an MSc in Mother & Child Health (London University) and is a Fellow of the College of Obstetrics and Gynaecology.
"For us, medicine has been a calling rather than a career. It is deeply embedded in our Christian faith to make a difference through our professions." The couple has three children: Kirstin who has a BSc in Nursing from Wits; Cathi who has an MSocSci and a PhD in public health from UCT; and Matthew with a BA Hons and a Diploma in Education from UCT.
Special guests at their post-graduation festivities will be their two grandsons, Joel (4) and Timothy (2), and a VIP: 90-year old "Omie", Jackie Kaiser, who will be making the trip south from Pretoria.
---
This work is licensed under a Creative Commons Attribution-NoDerivatives 4.0 International License.
Please view the republishing articles page for more information.
---