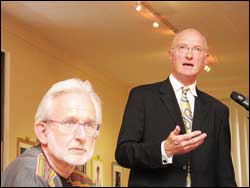 Witness: Edwin Cameron, with Prof Martin Hall, responds to audience questions after his address.
The HIV/AIDS colloquium, Living AIDS, hosted by Deputy Vice-Chancellor Professor Martin Hall, organised by HAICU- HIV/AIDS Co-ordination UCT, from November 15-16, provided a platform for students and staff to review and debate UCT's response to HIV and AIDS.
Sections were dedicated to HIV/AIDS management, research, teaching and the university's HIV/AIDS social responsiveness programmes. The colloquium was also attended by two observers external to UCT, Michael Kelley and Alice Lamptey, both international consultants to UNESCO and the World Bank on HIV/AIDS and higher education in Africa.
Says Kelley: "Holding a colloquium for staff and students to share understandings of current HIV-related activities was an imaginative and very commendable step. The colloquium provided the opportunity for conversations between departments on methodological and epistemological issues and on some of the basics of what a university education means in a world with AIDS."
One of the questions raised was whether UCT should offer compulsory undergraduate and postgraduate courses on the topic, although the university has shied away from doing this. "Compulsory courses are inevitably unattractive," said Hall, "but, UCT still has a responsibility to make sure that students take responsibility for their own health and that every graduate understands how to manage HIV and AIDS in their professional lives."
Kelley added: "Apart from health sciences and commerce, it did not come across clearly that students are being prepared to manage issues of HIV and AIDS in their future professional lives, with understanding of the concerns, and in ways appropriate to their professional field and befitting a university graduate from a world-class institution. Every faculty could do more to promote students' specific understanding of the interaction between HIV/AIDS and the areas in which they are acquiring professional expertise."
A highlight of the colloquium was the address by Edwin Cameron, Supreme Court of Appeal Judge and winner of the Alan Paton Non-Fiction Award for his best-selling book, Witness to AIDS.
Cameron said: "It is not enough for us to have the budget and the resources to end the deaths and forestall the infections. We need more. We need to activate our energies to intervene to bring treatment to those who are dying, diagnosis to those who stand to die, and effective protection to the uninfected."
There was a call to action to the university to continue play its part in this epidemic.
---
This work is licensed under a Creative Commons Attribution-NoDerivatives 4.0 International License.
Please view the republishing articles page for more information.
---