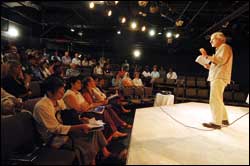 Moving on: Prof Martin Hall greets delegates at the first Mamela meeting, which continues where UCT's Khuluma transformation initiative leaves off.
Many would say that Khuluma has been a long time coming.
Even so, it was a particular sequence of events over the past three years that greased the wheels for the initiative. Foremost among these were the 2003 Institutional Climate Survey and the report that came out of that, a 2005 alliance between the Students' Representative Council (SRC) and staff bodies, the Lekgotla called by Vice-Chancellor and Principal, Professor Njabulo S Ndebele, in August last year, and the VC's subsequent Living Transformation document.
"They all pointed out that there were real issues of institutional culture that revolves around human relationships and UCT's value systems," says Nazeema Mohamed, manager of the Transformation Office.
This year, Mohamed's office, working with Professor Martin Hall, deputy vice-chancellor responsible for transformation, launched the Khuluma Project. Khuluma has taken the shape of an ongoing series of three-day workshops run by ProCorp, a consultancy that specialises in organisational culture and diversity management.
The workshop, says Mohamed, sets out to create "safe" spaces where staff can talk openly and without fear. Here, PASS and academics shared their thoughts on racial stereotypes, the misuse of positional authority and assumptions of white superiority.
After a pilot in June, the first workshops were held in September. By January 2007, some 23 of these Khuluma sessions will have been hosted.
"It was extremely intense," reports Mohamed. "But there was a sense that it was very helpful in that it provided a safe space where people could actually talk and be heard."
Feedback has been very positive. "UCT has embarked on a very powerful journey," remarked one staff member. "Life changing," is how another described the three days.
There has been criticism, however, notably around the silencing of contrary voices. But, going by their comments, even the critics want to come back.
The process has moved on to the next phase, though. While Khuluma workshops will continue, Hall recently hosted the first of many scheduled meetings of the follow-up Mamela, attended by some 85 Khuluma "graduates".
Mamela is billed as the first step in "moving from speaking to listening". It covers three areas - role models, exchanges (ie communication) and maps, where staff will look at where and how they can make a difference.
"The key task for Mamela," says Hall, "is to learn from, and extend and advance the community of practice that has already emerged from participation in Khuluma."
The journey continues.
---
This work is licensed under a Creative Commons Attribution-NoDerivatives 4.0 International License.
Please view the republishing articles page for more information.
---