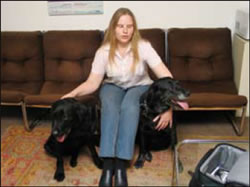 For the past nine years, visually impaired Annemie Gildenhuys, now a postgraduate student and tutor in the Department of Philosophy, has had a faithful canine guide and companion in Liesel (right), a sweet black Labrador who, when she was younger, sometimes stole food from colleagues' lunch bags. (Once her stomach had to be pumped because she had eaten a cardboard box and a plastic packet.) But now that she is older, she's better behaved and has a puppy "brother" by the name of Roscoe. In fact, Liesel is retiring from the department and will stay at home reading and relaxing while Roscoe accompanies Gildenhuys to university. Given the longstanding association with Liesel, at least in dog years, the department hosted a retirement event in her honour recently. HOD Professor David Benatar presented Liesel with an award for 63 dog years of service as an "un-perplexed" guide, playing on the title of Maimonides' work, Guide for the Perplexed. Liesel was unaware that she had just handed her job to a young upstart with a shiny coat and macho swagger, and was more interested in getting another doggie biscuit.
---
This work is licensed under a Creative Commons Attribution-NoDerivatives 4.0 International License.
Please view the republishing articles page for more information.
---