Professor John Moss
Scholars of the highest order. Flip through the raft of publications list, awards and achievements of UCT's newest incumbents and the accolade will seem barely adequate. Both John Moss and Mark Solms have attracted international acclaim for their original and pioneering research and contributions to their fields.
Solms is a professor of neuropsychology and is both a neuroscientist and a psychoanalyst. He was trained at Wits University and has worked in London and New York.
Five years ago he returned to South Africa to take up his UCT post, an appointment made on the basis of his pioneering work in neuropsychoanalysis. His task was to develop this area of research.
Solms' main area of scholarship, and his most significant contribution to this new discipline, has been to bring together the fields of neuroscience and psychoanalysis. He has re-shaped the boundary between these two fields, working on the psychological effects of focal brain lesions, most notably in dreams, and also on other phenomena.
His work has appeared in mainstream neuroscientific journals and several books. In addition, he has published in various psychoanalytic journals.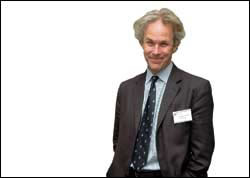 Professor Mark Solms
Washington-based scholar, Jaak Panskeep, whose ground-breaking work has included understanding the social brain and the neurobiological roots of basic emotional and motivational processes, described Solms as "a true genius of the emerging field of mind science that is emerging from modern neuroscience", suggesting that his research has helped to establish a new standard for what he calls the "mental apparatus".
Solms has produced over 300 publications. His research has attracted considerable international support and he runs research initiatives at UCT, at the Arnold Pfeffer Centre for Neuropsychoanalysis in New York and at the Anna Freud Centre in London. He has also won several awards including the International Psychiatrist Award from the American Psychiatric Association and Best Science Writing Awards.
Solms said: "I am thrilled. I returned home to South Africa and joined UCT quite recently, and this award makes me feel welcome and valued here. It is easy for an institution to underestimate the importance of that."
Moss is the Jamison Professor of Inorganic Chemistry and a leader in the field of organometallic chemistry. This relatively new field explores the chemistry of compounds containing metal-carbon bonds. It lies at the interface of inorganic and organic chemistry and has applications to catalysis, medicines and materials.
Moss has synthesised many novel compounds that have never been prepared before. This path of discovery goes back 40 years when his first series of new organonickel compounds was prepared with the pioneer in the field, Bernard L Shaw. This work was published in the Journal of the Chemical Society in 1966, while he was studying for his PhD at Leeds University.
Moss is a Chartered Chemist (CChem) a Fellow of the Royal Society of Chemistry, and a Fellow of the Royal Society of South Africa. He is a member of the Royal Society of South Africa. In 2006 he was elected as chairman of the Inorganic Chemistry Division of the South African Chemical Institute.
Moss has also received a Distinguished Teacher Award from UCT and has supervised 38 MSc and PhD students.
He said he was honoured by the award and paid tribute to his colleagues and sponsors.
"We look forward to much new, exciting and collaborative research in this field in the future."
Congratulations also go to UCT's two newest Junior Research Fellows: Dr Jaco Barnard (Department of Private Law) and Professor Bruce Basset (Department of Mathematics and Applied Mathematics/South African Astronomical Observatory).
---
This work is licensed under a Creative Commons Attribution-NoDerivatives 4.0 International License.
Please view the republishing articles page for more information.
---