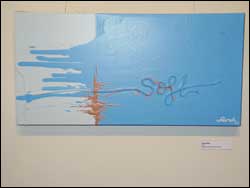 Soft by Sarah Brett.
Graduating students from The Michaelis School of Fine Art are hosting a fundraising exhibition, GLIMPSE, at the Centre for African Studies Gallery between September 20 and October 4.
All art is being sold at R250, which will go toward the publishing of the 2006 Michaelis catalogue and the advertisement costs for the end-of-year exhibition at Michaelis on Hiddingh campus during December.
Professor Pippa Skotnes (director of Michaelis) officially opened GLIMPSE by encapsulating its essence as fragments representing a larger body of work.
She said that "each piece is recognisable as the work of a particular artist, revealing the technical, creative and intellectual preoccupations they have". The Remorseless Metallic Shine in mixed media by artist Emil Karoly Papp represents the pen being mightier than the sword.
Suspended midair like a sword aimed at its scabbard, Papp says the work shows the "relationship between value and worthlessness". The simplicity of hanging a Bic pen from the ceiling symbolises its worthlessness, with the silver adding a sense of value.
Papp equates the pen with masculinity as he is "sampling visually off the corporate environment".
Curious eyes, willing wallets: Skotnes assured buyers they would acquire something that would be very valuable in time.
---
This work is licensed under a Creative Commons Attribution-NoDerivatives 4.0 International License.
Please view the republishing articles page for more information.
---