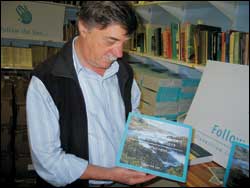 By the book: Prof John Parkington has written
Shorelines, Strandlopers and Shell Middens
, the third in a series published by the Krakadouw Trust and the third in the
Follow the San
series.
At the deep end of the Western world, South Africa has the longest, best-preserved and most intriguing record of coastal dwellers on the planet; more than 1 000 middens of shells, bones and artefacts at sites between the Orange River in the west and Maputaland in the east.
Archaeologist Professor John Parkington reckons there are probably closer to 3 000 shell middens: one for every kilometre of our 3 000 km coastline, though not uniformly spread.
If you're a beachcomber, chances are you've tramped through a shell midden without recognising it. How do we distinguish between these fragile heritage sources that reveal how ancient strandlopers lived and ordinary shelly beaches?
Parkington's new book has some answers. Shorelines, Strandlopers and Shell Middens is the third in a series published by the Krakadouw Trust and the third in the Follow the San series. He's hoping to extend the range to six or seven titles.
Shell middens, Parkington explains, are distinguishable through the shells themselves. You'd be looking at vast numbers, for starters: hundreds, even thousands, sometimes scattered over vast areas of coastline (megamiddens). The shells tend to be representative of a few species; typically from the shellfish strandlopers found tastiest, like limpets and mussels.
Among the middens you'd find wood, ash and bones (fish, seal seabirds, etc) and not beach pebbles or coastal debris you'd ordinarily expect to find on the beach. Often these sites erode out of dunes. Sometimes they're exposed by developments and large-scale mining, as in northern Namaqualand.
Parkington's book hones in on the archaeology of the Cape coastline, where shell middens give glimpses of the evolutionary history of our species. These scatterings of fragments, bleached by time, salt and sand ("The more mess, the more potential for learning"), tell us who visited the shores to feast off rich inter-tidal zones, where they camped on the dunes and which caves provided shelter.
Interwoven are more technical aspects like isotope and luminescence dating, used for dating objects of fired clay, but also cave sediments.
"It's scholarly, based on good research, but it's meant to be readable. It would appeal to the average archsoc member or anyone with an interest in archaeology," says Parkington.
The book also asks questions of our time: What will global warming do to these preserves? "There may be no future for either coastal shell middens or coastal towns as both could be flushed away by rising sea levels," Parkington notes.
In the meantime, there's the possibility of archaeotourism, generating jobs for local people, linking research, preservation of shell middens and job creation in what Parkington calls a "web of potential".
In this sense, the work is more than a study of ancient middens, people and the remnants of lives left behind. Parkington's research into people who are long gone rests on a keen sense of community development; a responsibility to those who have come after.
The sales of the book will underpin the small businesses rooted in the archaeological heritage of the area, bound up in the Clanwilliam Living Landscape Project. This is a community-based heritage and education project to return the "archaeological archive" to the Clanwilliam region. (Parkington won UCT's Pifer Award for this project.)
His next book (after 40 years at UCT, he's due to retire in a few years and will have more writing time) will be one on rock engravings in the Karoo.
"It will give us a chance to ask why some San painted and some engraved." There's no definitive answer, but Parkington believes geomorphology has a role.
"It's partly an issue of what the landscape presents; either the Cape Folded Belt at the coast, which presented rock shelters and places to paint in, or the open landscape of the Karoo, which didn't."
(The book is available to booksellers - and UCT staff - at R125.)
---
This work is licensed under a Creative Commons Attribution-NoDerivatives 4.0 International License.
Please view the republishing articles page for more information.
---