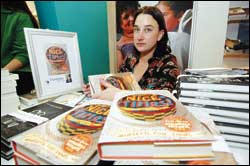 Through the writing mill: Henrietta Rose-Innes was one of the graduates of the MA in creative writing whose new books were on show at the recent Cape Town Book Fair.
The Cape Town Book Fair could easily have been mistaken for a celebration of UCT writing.
It was here, we must remember, that dark horse Andrew Brown, a UCT law graduate and now advocate who still describes himself as a part-time writer, was named as the winner of the Sunday Times Fiction Prize. But don't forget that all four other nominees are also linked to UCT and, more to the point, the MA programme in creative writing of the aptly named Centre for Creative Writing (CCR). Professors JM Coetzee and André Brink supervised students on the programme not too long ago, and the books by graduates Russel Brownlee (Garden of the Plagues) and Consuelo Roland (The Good Cemetery Guide) were their master's dissertations.
But there were other CCR wordsmiths celebrating new releases at the fair, including Byron Loker (New Swell), Sean O'Toole (Marquis of Mooikloof and other Stories) and Henrietta Rose-Innes (Nice Times: A Book on South African Pleasures and Delights). And Rosamund Handler, author of Madlands, was a featured speaker at the event.
In addition, Catriona Ross has published The Love Book, and CCR graduates Ceridwen Dovey, Michael Gastrow and Emma van der Vliet will all see their dissertations go into print soon.
And let's not overlook the number of Afrikaans writers who have gone through the programme of late.
Just in recent months, Chanette Paul's novel Leila Word Lig was named as the runner-up for this year's ATKV Award for Fiction. And Nanette van Rooyen's Chinhilla and Quintus van der Merwe's Uit Die Blou Van Ons Hemel were accepted by Tafelberg Publishers, and will be out early in 2007. (All three graduated with distinction from the programme.) Willemien Brummer, who has only just handed in her thesis, a collection of short stories, recently won a prestigious short-story competition for one of her pieces, as did Christine le Roux, still on the programme.
And there are many more manuscripts on their way, says Professor Etienne van Heerden of the Afrikaans and Netherlandic Studies Section, who supervised all the above graduates.
At the festival the Hofmeyr Prize for best literary work was awarded to his novel In Stede van die Liefde. In addition, other UCT alumni, writers with MAs in Creative Writing had works featured at the Book Fair: Jaco Botha, whose novel, Miskruier, came out recently, and Tom Dreyer, whose novel, Equatoria," was published in 2006. Van Heerden's student Chanette Paul was runner up for this year's ATKV prize for fiction (Van Heerden having won this award for In Stede van die Liefde).
Another CCR alumnus and UCT lecturer at the Centre for Film Studies, Mary Watson recently won the Caine Prize for African Writing in Oxford for her short story, Jungfrau, which is part of a collection, Moss, that she wrote as her thesis for the MA in Creative Writing.
This parade of books far exceeds anything the centre might have hoped for when it first came into being in the mid-1990s, says CCR director, Professor Stephen Watson. Back then, lecturers thought that one or two might see the light of day every year. Instead, half a dozen a year is not unheard of these days.
"It's been a wonderful, unintended by-product of our original aim," says Watson.
That aim was to provide students with structure and a few basic tools. And plenty of support for what, after all, is a very solitary task.
"The programme creates a context in which people's work is taken seriously, in which writing is taken seriously," says Watson.
Both Watson and Van Heerden agree that the MA programme, both the dissertation and taught courses, save young writers oodles of time. For two hours every Tuesday, Van Heerden puts some 21 students from all walks of life and academic backgrounds through the mill, exposing them to writers both international and local, many of whom they actually get to meet.
"This is a crucible for them, a situation where they can confront their demons in a relatively safe environment, test their skills against one another, and learn from masters of the craft," says Van Heerden. "Problems other writers may take years to confront can be worked out quicker, in a shorter space of time."
Some may think that a short cut, but going by the acclaim and accolades, both lecturers and students are getting it word perfect.
---
This work is licensed under a Creative Commons Attribution-NoDerivatives 4.0 International License.
Please view the republishing articles page for more information.
---