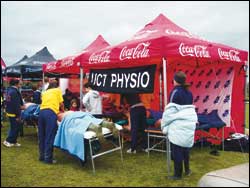 Hands: UCT physiotherapy students bring relief to sore paddlers during this year's Isuzu Berg River Canoe Marathon.
About 35 physiotherapy students honed their professional skills when they offered their services to paddlers at the 245km Isuzu Berg River Canoe Marathon, staged in mid-July.
Every year, students in the Division of Physiotherapy volunteer to set up stations at popular sports events like the Two Oceans marathon and the Argus Cycle Tour, offering massages and basic physio services to weary athletes. But this year, the Physiotherapy Students Council (PSC) was on the lookout for a new challenge and new sights to raise money for the PSC.
Lecturer Romy Parker suggested the hardy Berg River Canoe Marathon - they were guaranteed plenty of sore muscles - and Sally-Anne Barber, third-year sports representative on the PSC, made the project hers. She recruited 35 fellow students, drawn from the programme's four years, who had all completed the massage component of their studies. She also got on board sponsors Arnica and Johnson & Johnson, who generously donated massage and baby oil, respectively.
The students then trekked to Paarl for the start of the race, and would each day move and set up camp anew as the event wound its way to Velddrif along the West Coast.
"For four days we strapped, massaged, and stretched in varying weather conditions," summarises Barber.
The students must have done a good job, as they got repeat business each day. And long days they were, seeing their first customers at around seven in the morning, closing shop 12 hours later.
Not just did the aching paddlers benefit, but so too did the students. So, for instance, they had plenty of opportunities to practise their massage, stretching and strapping techniques on people other than their class mates. "We gained valuable hands-on experience, which gave us a taste of what we could expect in our future careers," says Barber.
There were other plusses. Like building team spirit among the students - especially during games of 30 Seconds - while dodging the rain under leaky gazebos.
"It was a fantastic trip," says Barber. "Especially the bonding experience between the students; it really made it."
And should the next cohort of PSC students agree, it could be the start of a beautiful new tradition.
---
This work is licensed under a Creative Commons Attribution-NoDerivatives 4.0 International License.
Please view the republishing articles page for more information.
---