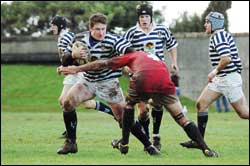 Overrun (Above left): Russell Nelson brushes off an NNK player in UCT's 64-7 win on May 20. Kenrick Brown and Warren Edwards get ready to offer back-up.
Athletics
UCT hosted its leg of the WP cross country calendar on May 20, but we're still awaiting results. The team didn't do too shabbily in the meet at the University of the Western Cape on Sunday, May 14, though. UCT's senior women's A team was second in the 8km A league; the senior women's B team was first in the B league; the junior women were first in the junior 6km league; the men were fifth in the senior men's 12km A league and third in the junior men's 8km league.
Netball
The netball first team is keeping up its promotion bid. They just got the better of Good Hope A by 47-43 on May 13, keeping them among the leaders on the WP log.
Squash
The women's side - defending their WP league title - has yet to lose a match this season. They're just slightly off the pace, though, trailing Camps Bay on points (decided on sets won and lost). The two teams have yet to play this season.
Hockey
Coach Charlie Stuart is, by his own admission, pleased as punch with the flying start of the women's first team in the Grand Challenge League. They've picked up bonus points in all three of their games, keeping Maties very much in their sights. Last season, UCT managed 45 or so goals, a very respectable tally by any standard. But they've taken their game up a notch or two this year - in their three games, they've netted 22. "I'm absolutely ecstatic," says Stuart. "If we can continue on this note, that would be brilliant."
Rugby
You can't accuse anyone at the UCT Rugby Club of counting their chickens too early. There's no talk of title glory just yet, despite the best start to the Super League A season that the FNB UCT first team has enjoyed in recent memory. Seven games played, five wins, one draw, one defeat (by one point to Stellenbosch in the intervarsity) and within earshot of the league leaders (the selfsame Maties). And that despite a frantic schedule - five games in the space of two weeks recently. "We don't normally start off this well," admits Spencer King, director of rugby. "But it certainly has been our best start in a long time." The worry is that the concertinaed schedule will take its toll on the players. A narrow 20-19 midweek win over Victorians was followed by a 64-7 romp over NNK on Saturday, May 20. The side's performance took a bit of a dip again, though, when they beat Hamilton by 18-5 last Wednesday, May 24. And exams start soon, which will put additional pressure on the players. But, for now, there's plenty to be optimistic about. "We just have to keep up the momentum," says King. And maybe those chickens will hatch soon.
---
This work is licensed under a Creative Commons Attribution-NoDerivatives 4.0 International License.
Please view the republishing articles page for more information.
---