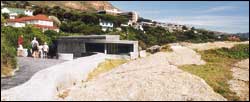 Blending in: Piet Louw's winning design of the entrance kiosk to Boulders Beach.
Piet Louw, architect, urban designer and planner, and part-time lecturer in the School of Architecture and Planning, has received an award from the Chicago Athenaeum Museum of Architecture and Design for his work on the Boulders Beach information centre and entrance kiosk to the beach.
His work is one of 33 projects around the world selected for awards, and it is the only one from Africa.
Boulders, famed for its penguin colony, is part of the Table Mountain National Park and is an international tourist attraction with approximately half a million visitors annually.
Louw designed the two buildings so that they complement and do not interfere with the natural surroundings of the park.
"We worked with the concept of merging and working with the land as opposed to against it," he says. "The intention was that the structures had to respond to the context, and what dominates here is the power and strength of the boulders themselves. The design has a laid-back feel which merges with the environment, and the buildings become part of the context."
The facilities were designed to recognise the varying tones and colours of the local context, namely the blues (water and sky), the green (vegetation) and the different tones of grey (the boulders).
Louw was invited by the museum to submit the project for the competition. "I had a hunch that there was something special about this project in terms of the architectural response to the design problem. I felt confident that I had done the right thing in terms of the resolution. So I entered it."
The winning projects will be showcased in an exhibition curated by the Royal Institute of Architects in Dublin in December.
"I appreciate the opportunity and the privilege given to me by this project to be able to contribute toward the Cape context and its associated tourism," says Louw.
---
This work is licensed under a Creative Commons Attribution-NoDerivatives 4.0 International License.
Please view the republishing articles page for more information.
---