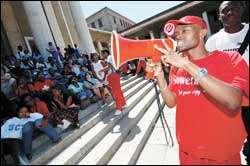 Power to the students: SRC president, Siphiwe "Spijo" Hlongwane, makes his case at last week's mass meeting on Jammie Steps.
Mixed response to SRC
Any meeting scheduled for lunchtime on the bustling Jammie Steps is bound to be trying. But so urgent were the issues - power cuts, catch-up classes, a shorter study week - that the Students Representative Council (SRC) braved the lounging regulars and the heat to stage a mass meeting on the steps last Tuesday. There wasn't that much "mass" to the gathering, but the SRC got what they wanted - to wit, a mandate. The SRC had a sit-down that evening with deputy vice-chancellor Prof Martin Hall to talk about the rescheduling of classes lost to the recent power failures, and needed a strategy. "Now we at least know more or less what the students are feeling," said SRC president, Siphiwe "Spijo" Hlongwane. The students at the meeting were easygoing. No one had fallen too far behind, they reasoned, and going by the comments, not many students had gripes about attending a few Saturday lectures.
International marketing seminar
The Graduate School of Business (GSB) will host an international marketing seminar, International Marketing Strategy, from March 15 to 17. The draw cards are Professor Jan-Benedict Steenkamp, known as one of the world's top marketing scholars, and Professor Steve Burgess, an internationally respected marketing academic resident at the GSB. The programme will offer guidance on marketing strategies and planning, with special attention to marketplace diversity and emerging economies. "Our goal is to provide executives with new insights about changing markets that help them re-hone the competitiveness of their marketing strategies," Burgess added. Burgess says they will focus on the changing nature of competition in global markets and show how firms can respond with effective marketing strategies. Steenkamp is the C Knox Massey Professor of Marketing and Marketing Area Chair at the University of North Carolina's Kenan-Flagler Business School. For full course outlines go to www.gsb.uct.ac.za/execed or call 406 1094/1323.
Asmal lecture
Please note that the lecture, National Identity and Human Rights delivered by Professor Kader Asmal at the conferring of the Order of the Légion d'Honneur by the Ambassador of France, Jean Felix-Paganon, on February 9 in Cape Town, is available on the iNCUDISA website: http://incudisa.uct.ac.za/home.php.
Canadian society hosts second SA lecture
In 2005, UCT's Centre for Extra-Mural Studies had a huge hand in launching the South African Association of Canadian Studies, which boasts a number of UCT scholars in its fold. On Thursday, March 16, the association hosts its second lecture. Professors Heribert Adam and Kogila Moodley will present the lecture Diversity and Identity in Canada and South Africa. In their talk, Adam and Moodley, authors of the 2005 book Seeking Mandela: Peacemaking between Israelis and Palestinians, will contrast Canada's multiculturalism and native policy with South Africa's efforts to overcome racism. Adam, a political theorist, teaches at Simon Fraser University, and Moodley teaches at the University of British Columbia. The meeting will run from 18h00 to 19h30, in lecture theatre 3 in the Kramer Law Building on middle campus. Entry is free. For more information, contact the Centre for Extra-Mural Studies at 650 2888.
---
This work is licensed under a Creative Commons Attribution-NoDerivatives 4.0 International License.
Please view the republishing articles page for more information.
---