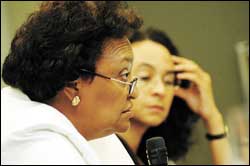 Women's work: Prof Zene Tadesse and UCT's Prof Amina Mama tackle women's issues.
Just over 10 years ago, delegates at the Fourth World Conference on Women in Beijing declared that they would "intensify efforts and actions" to advance the role of women in society.
In February, a group of feminist scholars from across Africa met in Cape Town to check on just what kind of progress has been made on the continent since, and to map a way forward.
There's much to take heart from, like the surge in the number of women holding political office, said delegates at the Policy Dialogue meeting hosted by UCT's African Gender Institute (AGI) and the United Nations Research Institute for Social Development (UNRISD). But there is also "much at risk", they added, pointing to Gender Equality: Striving for Justice in an Unequal World, a book launched by the UNRISD at the gathering.
"Despite women's greater prominence in political life," says the study, "they have in many cases yet to translate their visibility into leadership positions and influence over the decision-making process: there are still many instances where they are simply used as an extension of male power structures." The two-steps-forward-one-step-back story is repeated in other arenas. More women are economically active - and they earn more - but the free market system still favours men. Women are taking a bigger hand in ending wars and conflicts, but most war-time sexual crimes against women still go unpunished. And there are other developments, like the new wave of religious fundamentalism - be it of the Christian right in the United States or strains of Islam - that would pigeonhole women into more traditional roles.
It's the task of the 35 or so women at the conference, many of whom have the ears of policy makers and lobby groups, to set the pace for the next 10 years, says the AGI's Professor Amina Mama. "It's a small group, but it's a highly effective group." As the next decade will tell, many hope.
---
This work is licensed under a Creative Commons Attribution-NoDerivatives 4.0 International License.
Please view the republishing articles page for more information.
---