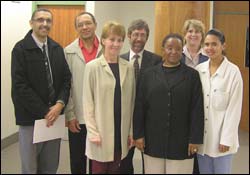 Leading the pack: (From left) Michael Norman (UWC), Winston Widdleton (UWC), Petro Uys (Stellenbosch), Pietie Trout (Stellenbosch), Nomakhaya Kamwendo (UCT), Desre Draper (Cape Peninsula University of Technology) and Zenobia Davidse (Stellenbosch) completed Creating the Leading Edge in 2004.
Training for middle managers on offer Many staff development needs are generic, and it makes sense for the four higher education institutions in the Western Cape to collaborate on some development programmes. One of these is about to enter its third cycle. Creating the Leading Edge, presented under the auspices of the Cape Higher Education Consortium (CHEC), is open to academic and support staff and targets middle managers. Core modules make up a comprehensive management development programme, recognised by all of the four institutions in the region. Managers can, however, pick and choose only those modules they're interested in. Core modules cover issues of leadership, project management, HIV/AIDS, communication, diversity and basic financial management. Electives tackle crisis intervention, disability, employment legislation, ICT and data analysis. A number of UCT faculty and staff completed the course last year. Said one manager after completing the module on basic financial management: "Never ever has any book or course offered me what [the lecturer] achieved in the past three days. I wish he had crossed my path 15 years ago." Nomination forms are available from the Staff Development Section at HRM. More information can be found on the CHEC website at www.chec.ac.za.
Union signs agreement After months of negotiations and toing-and-froing, the UCT Employees Union (UCTEU) and management signed a new Recognition Agreement in 2004. The document outlines areas such as the EU's jurisdiction on campus, how and when it can represent staff, strikes and lockouts, disputes and negotiation procedures. The agreement replaces the previous version signed way back in 1991. Which means the new one, says EU organiser Yasmin Fazel-Ellahi, is also in line with the Labour Relations Act of 1995.
Erratum†
We incorrectly credited the piece on the late Dr John Campbell (page 4, vol 24 no 01) to Dr Robert Bowen of the Division of Anatomical Pathology. The tribite was in fact written by Professor Peter Cruse, former Wernher and Beit professor of anatomical pathology at UCT.
---
This work is licensed under a Creative Commons Attribution-NoDerivatives 4.0 International License.
Please view the republishing articles page for more information.
---