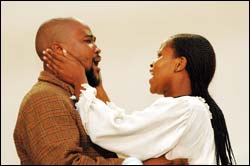 Operatic tribute: A highlight of the launch was the TB death scene from La Traviata in which the dying Violetta (Nokrismesi Skota) takes leave of her lover Alfredo (Nhlanhla Mweni).
UCT's strategic response to the diseases most affecting Africa, the Institute of Infectious Disease and Molecular Medicine, was launched on March 23 with the formal opening of the Wolfson Pavilion.
The gathering of luminaries included South African-born Nobel laureate Professor Sydney Brenner, who was also a guest speaker at an international conference, timed to coincide with the launch, titled Understanding the Major Infectious Diseases of Africa. Another Nobel laureate who attended was Dr David Baltimore, President of Caltech in the USA.
The conference focused on the latest developments in understanding immunity, molecular genetics, pathogens and the development of new drugs and therapies. It produced many challenging ideas, including questions about the prospects for an HIV/AIDS vaccine.
The IIDMM has 24 members whose teams are consolidating existing and new scientific research into diseases such as HIV/AIDS, TB, malaria and the human papilloma virus, which causes cervical cancer, the commonest form of cancer among African women.
Vice-Chancellor Professor Njabulo Ndebele, said: "We want our best scientists to do their work on our own soil. This is the significance of this enterprise and it is why UCT is proud that the IIDMM can now begin to deliver on its rich promise in a splendid building, made possible by so many generous donors and partners."
Ndebele also paid tribute to outgoing interim director Emeritus Professor Wieland Gevers, for his tireless work in getting the IIDMM project off the ground, including the building of the Wolfson Pavilion, revitalising the health sciences campus by linking the historic Wernher and Beit buildings.
Wellcome Trust director Dr Mark Walport said he had accepted the invitation to the opening because the IIDMM reflected a "cogent vision" for the development of a centre of excellence in an era of unprecedented scientific opportunity.
The IIDMM had a first-class cohort of scientists (including a strong home team), and strong international collaborations, he said, which was why it enjoyed the Wellcome Trust's support.
Gevers said the Wolfson Pavilion had been built with the intention of encouraging the exchange of ideas and collaborations and was intended to be a space where "mature scientists could flourish and young scientists grow".
A highlight of the evening, and a fitting reflection of UCT's artistic enterprise, was a moving rendition of the TB death scene from La Traviata by UCT opera students directed by Professor Angelo Gobbato.
---
This work is licensed under a Creative Commons Attribution-NoDerivatives 4.0 International License.
Please view the republishing articles page for more information.
---