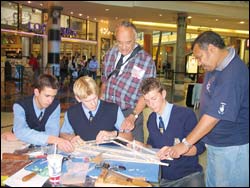 Enthusiastic engineers: The Higher Technical School Drostdy's team of budding bridge builders are (from left) Wynand Bothma, James Bester and Jaco Kotzè. Checking on the team are retired UCT professor Dereck Sparks (left) and member of the SAICE Western Cape board Faried Allie.
RainbowUCT gathering
On Wednesday, May 25, from 13h00 to 14h00, RainbowUCT, a student organisation dedicated to UCT's GLBT (gay, lesbian, bisexual, transgendered) population, invites its members and all allies of the GLBT community, regardless of sexual orientation or involvement in RainbowUCT, to sit on the Jammie Steps. Although no official programme is scheduled (participants are encouraged to bring friends, work, lunch or simply sit on the steps and socialise), organisers hope the event and its week-long publicity effort will attract attention and catapult increased campus dialogue, not only about GLBT issues and rights, but also about the role of action and activism in a nation that, at least constitutionally, regards its citizens to be equal despite differences in race, religion, gender and sexual orientation. For more information about the event or RainbowUCT, visit http://www.rainbowuct.org or contact help@rainbowuct.org.
Promising engineers build bridges
The South African Institution of Civil Engineering (SAICE) once again hosted its annual Bridge Building Competition at Canal Walk on Saturday, May 14. Learners from approximately 25 Western Cape schools competed for a place in the national finals by constructing their bridges from a standardised set of material. According to civil engineering senior lecturer Marianne Vanderschuren, the object of the competition is to build a bridge from wood, glue and other materials supplied in a standard kit. "The bridge has to be long enough to span a set distance of about a metre, and marks are awarded for efficiency and aesthetics. But the real test comes when each bridge is loaded to destruction," she explained. The winners, after a few adjustments for aesthetics and efficiency, are the team whose bridge can withstand the greatest load. First place went to Brackenfell High School with scores of 220g/ 22/ 165kg (mass/ aesthetics/ load) and second place to Higher Technical School Drostdy with scores of 205g/ 23/ 130kg. These two teams will be sent to the national finals to be held in Johannesburg on July 29.
Academic awareness week
The SRC recently held an Academic Awareness Week dedicated to informing students about their academic life and the various support structures, including the writing centre, counselling and health services, that are available. Flyers were handed out summarising contact details; these are still available at the SRC office (7th floor, SDSD Building). In addition, fun events like the treasure hunt went off successfully, and helped make students aware of the academic locations. If students need help or wish to become involved in academic leadership or support structures they should visit the SRC offices or e-mail
jared@debating.org.za
.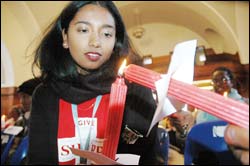 A candle to remember.
AIDS candlelight memorial
"Get tested," was the main message at this years's International AIDS Candlelight Memorial on May 12, held in the Jameson Hall and attended by Deputy Vice-Cahncellors Professor Thandabantu Nhlapo and Martin Hall. Said to be the largest grassroots AIDS event in the world, the offshoot of the memorial provided the UCT community with a chance to remember family and friends who have died of AIDS. The event, arranged by the Students' HIV/AIDS Resistance Programme (Sharp), also provide an opportunity to demonstrate their support for people living with HIV/AIDS. "It was a means to mobilise a coordinated response as a university community to HIV and AIDS," said the HIV/AIDS Unit's Sean Brown. This year marked the memorial's 22nd anniversary. It reaches over 3 000 communities in over 85 countries.
---
This work is licensed under a Creative Commons Attribution-NoDerivatives 4.0 International License.
Please view the republishing articles page for more information.
---