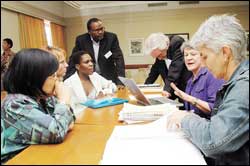 Joining hands: (From left) Dianne Mau (Wits), Susan Veldsman (South African Site Licensing Initiative), Joyce Ledwasa (Wits), Felix Ubugu (Wits), Colin Darch (UCT), Joan Rapp (UCT) and Nora Buchanan (UKZN) discuss a new proposal to the Carnegie Corporation.
Earlier this year, the Carnegie Corporation of New York awarded UCT, the University of KwaZulu-Natal and the University of the Witwatersrand each about US$2 million towards projects that would, for one, amp up their ability to attract, train, retain and promote a new generation of South African academics - especially black and women scholars.
Two weeks ago, representatives from these universities, along with a delegation from Rhodes University, gathered here to compare notes on the suite of transformation programmes they are running with this funding. (Rhodes receives similar support from the Mellon Foundation.) "As many of the great teachers and scholars at these three universities face retirement, programs at each university will seek to fill their ranks with young black and female scholars who will be nurtured, mentored and offered incentives to build careers at their home universities," said Narciso Matos, chair of Carnegie Corporation's International Development Programme, at the time.
At the November symposium - the first of three - the four universities reported on the progress of their initiatives, and also shared thoughts on the road ahead.
The gathering also saw librarians from UCT, UKZN and Wits, with help from Dr Geoffry Marks of UCT's Department of Development & Alumni Affairs, flesh out a joint proposal they will be making to Carnegie in January. Their plan calls for creating a research portal with seamless searching across multiple databases and campuses, access to newly available non-commercial databases, establishing at each institution a "research commons" modelled on UCT Libraries' undergraduate Knowledge Commons, and developing a cadre of librarians that will lend specialised research support to postgraduates and young researchers.
"The focus of the proposal is on increasing and enriching library support for researchers in a high-technology environment," said Dr Joan Rapp, executive director of UCT Libraries.
The symposium was sponsored by the Carnegie Corporation, who invited representatives of the Atlantic Philanthropies and the Andrew W Mellon Foundation to participate as they make similar grants to the three universities.
---
This work is licensed under a Creative Commons Attribution-NoDerivatives 4.0 International License.
Please view the republishing articles page for more information.
---