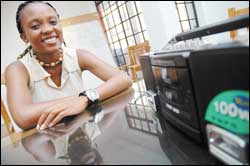 It's the mileage not the years: Mandisa Zitha, at 29 the oldest student in her film and media class, scored top marks for her radio script.
Mandisa Zitha (BA in film and media studies) says her classmates will likely be surprised to find out, on reading this article, that she is a few years their senior.
Sure, she didn't party with them (that's because she had her own circle of friends) but age just never came up, notes the 29-year old. Except maybe right at the end.
That's when she recorded the best mark in the final-year senior research project where students have to walk the talk and complete a practical media production project, along with an essay on that project.
"It's a fantastic course to teach," says senior lecturer Marion Walton. "We see students starting to make the connections between the practical skills they've learnt in their production courses and the tough theoretical questions they've been confronting in their more academic courses."
Zitha, who won both the class medal and the Robin Cohen award for her efforts, penned a script for a radio drama about two young girls running the gamut of township life. Taking first place in the course was no mean feat, as this year's class boasted a number of first-rate projects, says Walton.
Zitha would be the last to claim that being older gave her an edge.
"I was pleasantly surprised to find younger people who are very mature, and who were actually more mature than I was at that age," she insists.
What possibly did help were the work experiences in the music and film industries she picked up in the years between Mmabatho High School in the North West province and UCT. With her academic clock ticking, it was a stint on a film set that finally made up her mind to continue her studies.
Besides, she was tired of being just a backstage paper-pusher, she says. "I really, really wanted to move away from just doing administrative work to actually doing creative work."
She's done more than that - SAfm has already shown an interest in her radio play.
Film remains her first love, however, and in time, Zitha says, she'd love to pen a few screenplays and see those going into production. Then she would really have come of age.
---
This work is licensed under a Creative Commons Attribution-NoDerivatives 4.0 International License.
Please view the republishing articles page for more information.
---