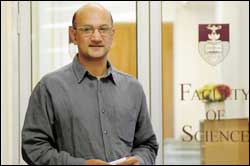 Four of a kind: Prof Daya Reddy is the only scientist in South Africa to belong to all of the country's science academies.
Following his recent admission to the Suid-Afrikaanse Akademie vir Wetenskap en Kuns, Professor Daya Reddy is now the only scientist on the books of all four of the country's science academies. That takes some doing as membership is by peer-nomination and invitation only.
Reddy, who may be the first scientist to ever achieve this quadruple, has been a Fellow of the Royal Society of South Africa since 1992, was accepted as a member of the Academy of Science of South Africa in 1996, and became a Fellow of the South African Academy of Engineering in 2002. (The older Royal Society of SA and the Akademie had a big hand in the creation in 1996 of the Academy of Science, the youngest in the fold.)
"Professor Reddy's academic profile is a perfect fit with regard to the Akademie's esteem for excellence in science," says Professor Jacques van der Elst, CEO of the Akademie, whose invitation has now helped Reddy round off the set. "His CV shows proof of his stature as an eminent scholar on national and international levels." What has stood Reddy in good stead is that his work straddles both engineering and applied mathematics. His interests lie in the crossroads where continuum mechanics, functional analysis and numerical analysis meet, particularly in the way problems of continuum mechanics (the branch of mechanical physics that deals with continuous matter, ie both solids and fluids) are approached in mathematical and computational terms.
It's a pursuit reined in, to some extent, by his seven-year term as dean of science (which now comes to an end), concedes Reddy.
"It doesn't always all work out," he says. "One has to adjust one's sights accordingly." He hadn't slacked off, though. He's still tapping the research momentum and networks he built up before the deanship - his A1-rating from the National Research Foundation came well after he took office - and still supervises postgraduate and postdoctoral students, and also makes a point of attending at least two conferences a year.
He has enjoyed serving as dean, says Reddy. But the time has come, he believes, to throw himself back into his teaching and research.
---
This work is licensed under a Creative Commons Attribution-NoDerivatives 4.0 International License.
Please view the republishing articles page for more information.
---