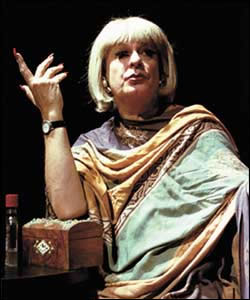 Pieter-Dirk Uys for Jammie
On Wednesday, November 30, Pieter-Dirk Uys will give a free performance of his show Foreign Aids to mark World AIDS Day. The 90-minute show will start at 15h00. Seating will be on a first-come first-seated basis, so do arrive early.
Uys, who is a UCT alumnus, was awarded South Africa's prestigious Truth and Reconciliation Award in 2001 and has received honorary degrees from several universities, including UCT.
During the past four years he has travelled around South Africa visiting over 500 schools and one million school children, as well as prisons and reformatories, with free AIDS-awareness entertainment called For Facts Sake! He has also released corporate AIDS-information videos (Having Sex with Pieter-Dirk Uys and It's just a Small Prick) as well as one for the family (Survival Aids).
Reminder - voluntary counselling and testing
The last on-site voluntary counselling and testing (VCT) for the UCT Direct Aids Intervention Programme will be on November 25 at Cambria House basement. To book online for VCT visit www.cell-life.org.za/uct. For more information call 650 3028.
Fun at Jack Elsworth lecture
"Come dressed as your favourite superhero." Now that's an invitation you can't ignore. It's part of the fun evening The Royal Society of Chemistry plans for their annual Jack Elsworth Christmas Lecture. This will take place on November 29 at 19h00 in Lecture Theatre 1, PD Hahn Building, on the upper campus. Touted as an evening of fun and magic, it's aimed at young school children but suitable for the whole family (put away your Superman kit, dad). Ice-cream and cool drinks will be available afterwards. Entrance costs R5 a person. For more information phone Deirdre on 650 2324.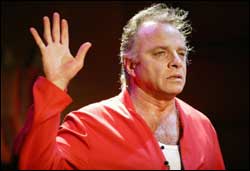 Pieter-Dirk Uys
Exits and Entrances at the Baxter
Following its seasons at the State Theatre in Pretoria and The Market Theatre in Johannesburg, Athol Fugard's highly acclaimed Exits and Entrances is on at the Baxter Theatre Centre until December 10.
Sold out here in its final two weeks and back by popular demand, Fugard's tribute to his mentor, André Huguenet, is ideal to usher in the summer. Referring to it as his "small play", he says: "André was very important to me in terms of my awareness of theatre. The fact that he was a visionary might well have been the provocation that I needed to formulate a vision of my own."
Exits and Entrances is a showcase of Fugard's relationship with Huguenet, who gave him his first job, casting him as a shepherd who clings to the ankles of Oedipus (played by Huguenet). It is a tender portrait of an actor in decline. The play focuses on the exit of Huguenet - at the end of his creative life - and the entrance of Fugard, just starting his career as a playwright.
Book through Computicket or the Baxter Theatre on 680 3989. For school and block-bookings, charities, dinner/show packages and fundraisers please contact Sharon on 680 3962.
---
This work is licensed under a Creative Commons Attribution-NoDerivatives 4.0 International License.
Please view the republishing articles page for more information.
---