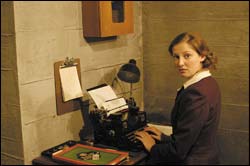 Taking notes: In Downfall, private secretary Traudl Junge (Alexandra Maria Lara) sees a different side to Adolf Hitler.
Adolf Hitler's final days holed up in his Berlin bunker have received a couple of movie treatments before. Downfall is different. Based on two books, one a memoir by Hitler's private secretary at the time, Traudl Junge, the camera spends as much time with the gallery of supporting characters, all based on real people, as it does on its central figure. The first biographical movie on der Führer to come out of Germany in almost 50 years, Downfall also casts a sometimes different light on Hitler, played by Bruno Ganz. Yes, there's the Hitler who rejoices in the murder of six million Jews, the Hitler who rants against the weak German people and the weak generals he believes have all let him down, and the Hitler who ping-pongs between defiance, dreaming up one cockamamie scheme after the other to pull the Third Reich out of the bag, and, finally, suicidal despair. But there's also the kindly, avuncular Hitler to Junge (Alexandra Maria Lara) and other staff. Hence the criticism that the movie - and Junge's book - makes a man out of a monster. Decide for yourself. Either way, Downfall is long but engrossing and often disturbing. (Not least when Magda Goebbels, wife to propaganda minister Josef Goebbels, cracks poison vials between the lips of her six sleeping, drugged children.) The film doesn't exactly say too much new about either Hitler or the German people of the time. Except, perhaps, in the closing lines spoken by an elderly Junge, which says a lot about humanity.
---
This work is licensed under a Creative Commons Attribution-NoDerivatives 4.0 International License.
Please view the republishing articles page for more information.
---