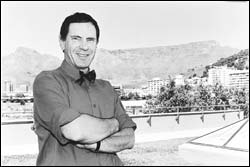 Horwitz elected to top body
Professor Frank Horwitz, director of the Graduate School of Business (GSB), has been elected vice-president of the South African Association of Graduate Schools of Business and Management (AGSBM). The AGSBM is made up of some 17 South African business schools. It aims to provide a platform for the generation and exchange of innovative ideas to improve the overall quality of business education. "I feel honoured to receive this appointment, and believe the AGSBM can make a very important contribution to raising the profile of business schools in southern Africa," said Horwitz.
Medical aid changes
Discovery Health has launched their 2006 option changes. Plans such as the NetcarePlus, Medi-Clinic Priority and Coastal Priority have been discontinued; savings levels have been capped and the tax rebate is in question. In order to find out more about the impact these changes will have on you, you are strongly urged to attend one of the following information sessions:
Monday, October 17, at 13h00, Michaelis Lecture Theatre, Hiddingh campus
Tuesday, October 18, at 13h00, LT2, PD Hahn, upper campus
Wednesday, October 19, at 10h00, Bremner building; and at 13h00, LT2, PD Hahn, upper campus
Thursday, October 20, at 13h00, conference room 4, Barnard Fuller building, Medical School; and 16h00, LT2, PD Hahn, upper campus
Friday, October 21, at 12h30, Bremner building
Tuesday, October 25, at 12h00, Syndicate Room 1, GSB.
Correspondence from the Human Resource Department with regard to the 2006 changes has been sent out. Should you not have received your information pack, please contact Gina Fraser at e-mail pergds@bremner.uct.ac.za or on extension 4001.
---
This work is licensed under a Creative Commons Attribution-NoDerivatives 4.0 International License.
Please view the republishing articles page for more information.
---