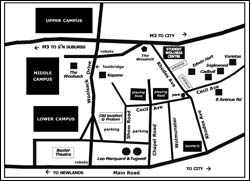 In late October 2005, several student services will be moving from Protem to the former Princess Christian Home, 28 Rhodes Avenue, Mowbray (see map). Phone and fax numbers, and e-mail addresses, will remain the same.
HIV/AIDS Unit
Tel: 021 650 3599
Fax: 021 650 3600
www.hivaids.uct.ac.za
The HIV/AIDS Unit works to equip graduates and staff at UCT to respond to the HIV and AIDS pandemic at both a personal and professional level. Through a range of responses, both curricular and co-curricular, the unit seeks to empower students and staff to become part of a compassionate citizenry able to respond to HIV and AIDS issues as the pandemic evolves.
For information, advice and referrals, call Freefone 0800 543543 or send an sms 'please call me' to 084 819 1735. Contact the HIV/AIDS Unit if you are HIV positive and want to chat anonymously online with other staff and students who are similarly living with HIV. Also contact the unit for a free, informal and confidential chat with a health promoter living openly with HIV.
Student Health Service
Tel: 021 650 3000
Student Health Service responds to students' general health concerns, including viral illnesses eg colds and flu; manageable medical conditions eg headaches and asthma; life skills eg stress and psychological support; psychiatric issues eg depression and anxiety; women's health; and nutrition. It also provides voluntary testing and counselling. Please call to book an appointment.
Student Psychological Services
Tel: 021 650 4589
This psychological service to students is staffed by registered clinical psychologists and a consultant psychiatrist, offering confidential individual and group psychological therapies for problems ranging from depression and anxiety, to relationship and family problems, and homesickness and adjustment. Please call to book an appointment.
Industrial Health Research Group (IHRG)
Tel: 021 6503508
Fax: 021 6855209
admin@ihrg.uct.ac.za
The Industrial Health Research Group (IHRG) provides occupational health and safety (OH&S) research, training, services, advice, advocacy and resources to workers and trade unions. The unit is part of the Occupational Environmental Health Research Unit based in the School of Public Health and Family Medicine. The IHRG's is currently running OH&S/HIV programmes in the public health, municipal, diamond mining and auto sectors, and coordinating an inter-disciplinary programme engaged in developing and piloting an OH&S training curriculum for elected health and safety epresentatives.
Citiwise Campus Drivers' Club
Tel: 021 685 3470
Fax: 021 685 3470
cwiseuct@global.co.za
Citiwise is a subsidised on-campus driver education programme, sponsored by Caltex and Volkswagen. Since its inception in 1997, it has helped thousands of students to gain their driver's licence.
---
This work is licensed under a Creative Commons Attribution-NoDerivatives 4.0 International License.
Please view the republishing articles page for more information.
---