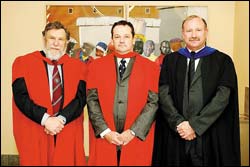 Prof Richard Hift (middle) flanked by Profs Ralph Kirsch (left) and Kit Vaughan.
We report on the recent inaugural lectures by Professors Richard Hift and Raj Ramesar in the health sciences faculty.
Research, teaching and clinical service at the heart of scholarship
Early in his undergraduate career at UCT, Richard Hift decided he would like to make a meaningful contribution to the lives of ordinary people. Today, as a professor of medicine, he's doing just that, as a scholar, physician, clinician and teacher .
Hift and Professor Peter Meissner work together in the renowned Porphyria Clinic at UCT, based at Groote Schuur Hospital. In the first part of Hift's inaugural lecture he demonstrated the fruits of a close collaboration between the two scientists: one with clinical training, and the other with a background of pure science.
The porphyrias are a group of diseases caused by the over-production of porphyrins, as a result of an inherited metabolic defect. One form, variegate porphyria, is widespread in South Africa, with an estimated 50 000 people carrying the trait, the gene having been linked to a 1688 Dutch immigrant to the Cape.
In his inaugural lecture, Seize the Day: The academic clinician as physician, scientist, educator, Hift visited each of these areas and though his contributions as a clinician and scientist are impressive, one came away with the strong impression that teaching occupies a special place in his life. As Ernest Boyer, past president of the Carnegie Foundation for the Advancement of Teaching, once said: "A poor surgeon hurts one person at a time. A poor teacher hurts 130."
It's perhaps not surprising that eight years ago Hift was given the "unenviable task" of revamping the clinical methods course for third-year MBChB students. The results caused a radical shift. As deputy dean Professor Kit Vaughan saids in his introduction: "The course became the basis for the sixth semester in the new curriculum, contributing significantly to our students becoming cognitive, thinking clinicians."
Hift insisted that students should not learn their clinical skills in isolation; rather as part of an integrated process whereby they learn why they are required and how the resulting information should be used. This would be complemented by personal hands-on experience. He took this a step further by introducing a complementary, two-tutorial system, where the skills of history-taking and physical examination were taught by two experienced nurse clincians, Sisters Rae Nash and Lindsay Aubin, leaving experienced clinicians free to guide the students in the application of higher-order cognitive skills required for diagnostic reasoning and planning of clinical management.
Four years ago Hift took on the responsibility of establishing and directing a Clinical Skills Centre for UCT. He raised R3-million for equipment and gathered the consultative team who teach over 500 students at the centre weekly. Students are trained in phlebotomy, resuscitation, pelvic examinations, catheterisation and other essential technical skills. The original focus on the patient interview, physical examination and clinical reasoning remains, however, the most important focus of the centre.
In the innovative semester-six course introduced by Hift in 2004, third-year medical students are exposed to an entire semester of clinical experience, a total immersion designed to increase their depth of knowledge and clinical experience, in fields such as obstetric and neonatal care, women's health, adult health and mental health. Significantly, most of their learning is based on individual exploration, group work and clinical exposure, all recorded in individual portfolios of learning. The emphasis on experiential learning is based on research, which suggests that clinical experience, with the development of a personal database of clinical exemplars based on experience is the cornerstone on which clinical expertise is built.
"The students are assessed by means of the portfolio interview, a technique developed within the faculty by Professor Vanessa Burch and adopted by Professor Janet Seggie, which I believe to be one of the most important educational developments ever to come out of our faculty."
Hift also expressed concern at the dearth of clinician scientists. Currently, professional training for doctors, from the undergraduate degree through to specialisation and sub-specialisation, is so long that the additional time required for a doctoral degree is unattractive. Indeed, clinically-trained scientists may often be older than 40 when they finish, whereas the science graduate with a PhD is likely to be not much older than 25. "Clearly, if one believes in the value of the clinician scientist alongside the biologist in our hospitals and universities, then this is an untenable position."
Returning to teaching, Hift said that while society reaped the positive consequences of research, there had been a tendency to undervalue the educational component of a university's function in the major American universities. Boyer had redefined scholarship to embrace the scholarship of discovery; the scholarship of integration, the scholarship of application and the scholarship of teaching and learning. Over the 20th century, one of these - research, or the scholarship of discovery - had become pre-eminent in universities, and usually the only, or at least the major, criterion for reward and promotion for academic staff.
Africa: home to greater genetic diversity, and nature's own laboratory
Did you know that humans share 50% of the genes of bananas? And 60% with the humble fruit fly? Strange but true and an enticing entrée into the topic of Professor Raj Ramesar's recent inaugural lecture, Genes, Genomics and African Health: Opportunities and challenges.
For all their technological and medical advances, humans are still at the mercy of the variations in our genetic material originally forged in our ancestors. Some of these variations have ended up predisposing us to relatively common chronic diseases such as cancers, diabetes, autoimmune diseases, degenerative diseases like retinitis pigmentosa, which causes blindness, and the like.
"Humankind emerged from the great plains of Africa and migrated to various parts of the planet," Ramesar explained. "So, our populations in Africa retain a greater level of 'variation and diversity' with respect to any part of the genome, when compared to populations outside of this continent (from which they derived). This richness of variation may well be exploited to sample the limits of biological variation compatible with the human condition. In this regard, using genomic technologies and the genetic variations available we ought to be able to identify those aspects of our biology which most threaten our health."
He said this research should lead to very targeted endeavours towards more effective and logical therapeutics and management strategies, starting with recognising who is predisposed to what disease, presymptomatically.
In this sense, UCT has nailed its colours to the mast. As director of the UCT/MRC Human Genetics Research Unit, Ramesar's team is focused firmly on African problems.
"But, because of market trends, knowing our diseases will not ensure these warrant First World attention," he cautioned.
It was the subject of diseases in families that gave impetus to the Human Genome Project, a resource-hungry and ambitious project that rivalled the space programme and one that will produce some the next century's most thrilling discoveries and advances.
While genetics and genomes are often bundled into the same bag, scientifically speaking, these are separate studies.
"Genetics is the study of patterns of inheritance of specific traits, and the mechanisms of hereditary and biological variation. The more recently coined term, genomics, on the other hand, refers to the study of the sequence, structure and function of the genome, or organism's biological blueprint; the DNA, chromosomes and genes."
With the emphasis on human disease, the developing technologies in recombinant DNA allowed a few "intrepid travellers" to consider localising the genes for various disorders.
In South Africa, a considerable amount of effort in Ramesar's laboratory has been focused on inherited diseases including colorectal cancer and retinitis pigmentosa, maladies that have resulted in some determined genetic sleuthing among the affected communities as researchers and their support staff trace the families and individuals affected - and manage their treatment. More recently, there has been a genuine commitment to researching the genetics and biology of the more common chronic diseases such as hypertension in the indigenous populations, diabetes, neuropsychiatric illnesses, and others.
Following many years of working with diseases like colorectal cancer in outlying communities of the Northern Cape, to the point of finding "defective genes" and being able to offer predictive genetic testing and genetic counselling, Ramesar is committed to an integrated approach, from community to clinic to laboratory and back again to the community. "It requires a different kind of medicine and education," he explained, "a commitment to outreach and work in the community, following up the blood lines - in four by four vehicles, by foot, by word of mouth - to find out who can benefit from the intervention of a 'more sensitive stethoscope', one that can predict disease, never mind diagnose it."
Ramesar provided a personal window on the question of genetic inheritance. Few know that he is an accomplished artist (water colours). He got "seriously interested" in painting 20 years ago during his PhD and took lessons from an artist in Diep River.
"Although there are no overt painting skills evident in my ancestors' or parents' estates, when I look carefully at the embroidery, clothes design and other artistic endeavours, one does notice that there is a higher level of this in my extended family, compared to others. So I expect that there is something about perception/skills that is inherited. Most people in earlier generations, never got beyond the 'potato print' stage of early primary school."
---
This work is licensed under a Creative Commons Attribution-NoDerivatives 4.0 International License.
Please view the republishing articles page for more information.
---